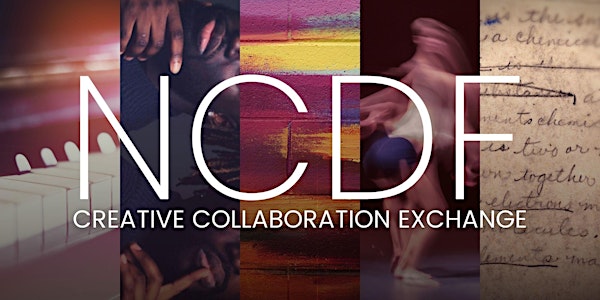 NC Dance Festival Creative Collaboration
4 artists, working in dance, mixed media, and music, will create a collaborative performance in just one day
When and where
Location
Goodyear Arts 301 Camp Road ##200 Charlotte, NC 28206
About this event
Co-Presented by Goodyear Arts, the Creative Collaboration Exchange brings together four artists, working in dance, mixed media, and music, who will create a collaborative performance in just one day. Featuring Audrey Baran (Charlotte), Zachary Gossett (Durham), Jasmine Powell (Hillsborough), and Tiffany Santeiro (Brevard), the collaborative performance draws inspiration from the artists' response to recent newspaper headlines, from "Mushrooms are having a moment" to "How Quitting a Job Changed My Work Life Balance" to "Researcher Proposes New Theory of Consciousness," and more. The one-day collaboration in Goodyear Arts will transform these playful, thoughtful, dark, and joyful starting points into a record of an ever-changing time, and an outpouring of creativity after several years of artistic isolation.
Charlotte duo TwinNation (Sanwone & Santae Benjamin) will also perform a dynamic hip hop duet, "Destiny." Winston-Salem-based Chris Yon and Taryn Griggs present "SECRET BIRD MEETING: Yoggs Family Newsletter Updates, 2014-2022," an abstracted collection of dances drawn from times when major events happened in their family and in the world, danced in their signature style: deadpan slapstick, understated melodrama, autobiographical science fiction, cubist vaudeville, and explorations of magic and virtuosity in everyday movement.
An artist talk-back follows the performance.
Admission is by donation ($25 donation suggested). Please RSVP to claim a seat.
This performance is sponsored by Atrium Health Wake Forest Baptist's Performing Arts Medicine Clinic, and Stability Engineering, with additional support from the NC Arts Council, a division of the Department of Natural and Cultural Resources.
Accessible parking is located directly in front of Goodyear Arts, on Camp Rd., and a ramp leads from the sidewalk to the entrance of Goodyear Arts.
The venue is on one level, with one accessible restroom. The venue is not air-conditioned.
Seating is moveable and can accommodate wheelchairs and other mobility devices.
Printed performance details are available in large-print or digitally.
Please contact Anne at 336-370-6776 for information about any additional accessibility questions or accommodations.