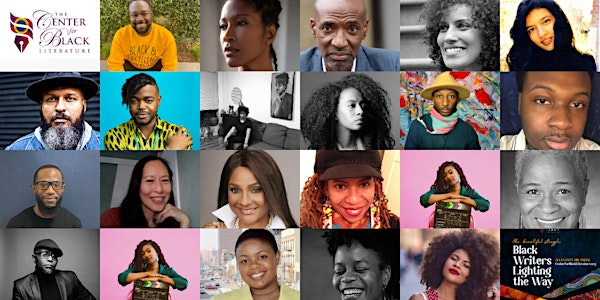 NBWC2022 Day Two (Scholarly Presentations, Poetry, Films, and More!)
Scholarly Presentations • Readings from Elder Writers • Poetry Cafe • Literary Film Discussion by African Voices/Reel Sisters + ImageNation!
About this event
Scholarly Presentations on the Conference Theme: The Beautiful Struggle: Black Writers Lighting the Way. Host: WALLACE L. FORD, Medgar Evers College, CUNY
11:00 AM – 11:45 PM ET | Transformative Power Reflected in the Works of Jacqueline Woodson (Donna Hill, Moderator)
Aileen A. Johnson, "Jacqueline Woodson: From Dreaming to Meaning, Literature of Resistance, Resilience, and Rejoicing"
Luvon Roberson, "We Code and We Transmute: A Literary Assay of Jacqueline Woodson's This Is the Rope: A Story from the Great Migration"
12:00 PM – 1:15 PM ET | Voices Speaking Truth in Black Literature (Kareen Odate, Moderator)
Kim Williams-Pulfer and Dr. Khadijah Ali-Coleman, "What Is Our Inheritance? Tracing the Evolution of Black Writers through the Work of The Hurston/Wright Foundation"
Shawn Anthony Christian, "Eddie Glaude Jr., James Baldwin, and a Message for Black America"
Angelle M. Jones, "The Beautiful Struggle of the Resilient Black Writer"
1:30 PM – 3:00 PM ET | Cross-Cultural Exploration of Black Literature (Wallace L. Ford, Moderator)
Mary Romney-Schaab, "A West Indian in the Nazi Era: Discovering Resilience through Oral History"
Lisa Wilson, "The Faithful Imaginary in Black Literature Aesthetics"
Hermina Marcellin, "The Audacity of a Hybrid Resistance in The Poetry of Derek Walcott, 1948-2013"
Reading: "Reflections of the Year 2020"
Curator: EISA ULEN RICHARDSON, Workshop Leader, Center for Black Literature. Host: DIANE RICHARDS of The Harlem Writers Guild
3:30 pm – 5:00 pm ET
Participants of the Dr. Edith Rock Writing Workshop for Elders will share their writing related to the COVID-19 pandemic; the deaths of George Floyd, Breonna Taylor, Ahmaud Arbery, and others; and the January 6th insurrection at the U.S. Capitol.
Poetry Café: "A Tribute to Poet Kamilah Aisha Moon"
Co-Presenter: BROOKLYN PUBLIC LIBRARY. Welcome and Introductions: DARREL ALEJANDRO HOLNES and JOANNA SIT
6:30 pm – 7:30 pm ET
The 10th NBWC Poetry Café will pay tribute to the beloved poet and educator KAMILAH AISHA MOON, who passed in September 2021. Medgar Evers College students Malik Windsor and Malik Brizan-Reed will open the program. Featured poets for this special event include Ama Codjoe, Aracelis Girmay, Rachel Eliza Griffiths, Tyehimba Jess, Nina Angela Mercer, and John Murillo.
A Film Series and Discussion: Love Supreme: A Celebration of Cinema, Literature, and Relationship
Co-Presenters: African Voices/Reel Sisters of the Diaspora Film Festival and Lecture Series (CAROLYN BUTTS, founder) and ImageNation Film Festival Inc. (MOIKGANTSI KGAMA, founder). REV. MALIKA LEE WHITNEY will moderate a discussion with the filmmakers (please see below).
In 2022, ImageNation Film Festival Inc. (ImageNation) and Reel Sisters of the Diaspora Film Festival & Lecture Series (Reel Sisters) celebrate 25 years of existence! ImageNation and Reel Sisters proudly join forces to present, exclusively for NBWC2022, a special film series and discussion that features short films from Butts's and Kgama's respective archives as well as from the landscape of contemporary films.
FEATURED FILMS
90 Days | Written and directed by Nathan Hale Williams and Jennia Fredrique Aponte, 19 minutes, 2016, USA; Narrative
Black Love Manifesto | Written and directed by Liza Jessie Peterson, 20 minutes, 2021, USA; Experimental
Love Walks In | Written and directed by Artel Great, 90 minutes, 2021, USA; Narrative
Thistles & Thorns | Dir. by Kalie Acheson, 11:41 minutes, USA; Narrative; Written by Yazmin Monet Watkins-Vieux and David Vieux
NOTE: Only those who have registered for DAY TWO (or for all the days) can join the film series discussion.
...
This program is subject to change. NBWC2022 is all virtual this year. All times are Eastern.
Media inquiries are directed to April R. Silver of AKILA WORKSONGS via pr@akilaworksongs.com or (718) 756-8501 (office). Visit www.CenterForBlackLiterature.org for more details.