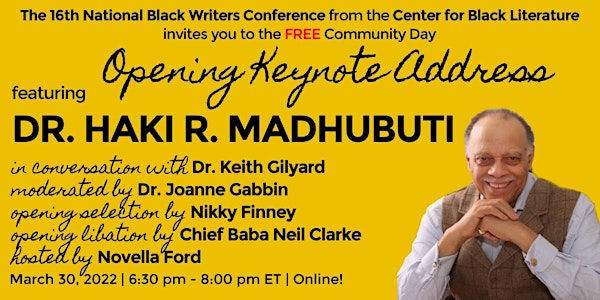 NBWC2022 Day One: Dr. Haki R. Madhubuti (Opening Program)
NBWC2022 will kick off with an opening keynote featuring Dr. Haki Madhubuti in conversation with Dr. Keith Gilyard.
About this event
During the Opening Keynote for the 16th National Black Writers Conference, Dr. Haki R. Madhubuti and Dr. Keith Gilyard will engage in conversation on the Conference theme. Dr. Joanne Gabbin will moderate the conversation. The distinguished guests will share personal accounts of their achievements and reflect on the struggles Black writers have faced over the years. Additionally, they will share their perspectives on what lies ahead for Black literature, offer their perspectives on institution building, and reflect on the world of publishing.
Dr. Madhubuti is an author, educator, poet, and publisher of Third World Press. Dr. Gilyard is an author and is the Edwin Erle Sparks Professor of English and African American Studies at Penn State. Dr. Gabbin is a poet, scholar, and executive director of the Furious Flower Poetry Center. Nikky Finney, National Book Award-winning poet and professor, will open the program.
6:30 pm – 8:00 pm ET
Host: NOVELLA FORD, Schomburg Center for Research in Black Culture
Opening Program: "The Beautiful Struggle: A Conversation"
Opening Libation: CHIEF BABA NEIL CLARKE
Opening Selection: NIKKY FINNEY
Opening Keynote: DR. HAKI R. MADHUBUTI in Conversation with DR. KEITH GILYARD
Moderator: DR. JOANNE GABBIN
...
This program is subject to change. NBWC2022 is all virtual this year. All times are Eastern.
Media inquiries are directed to April R. Silver of AKILA WORKSONGS via pr@akilaworksongs.com or (718) 756-8501 (office). Visit www.CenterForBlackLiterature.org for more details.