Description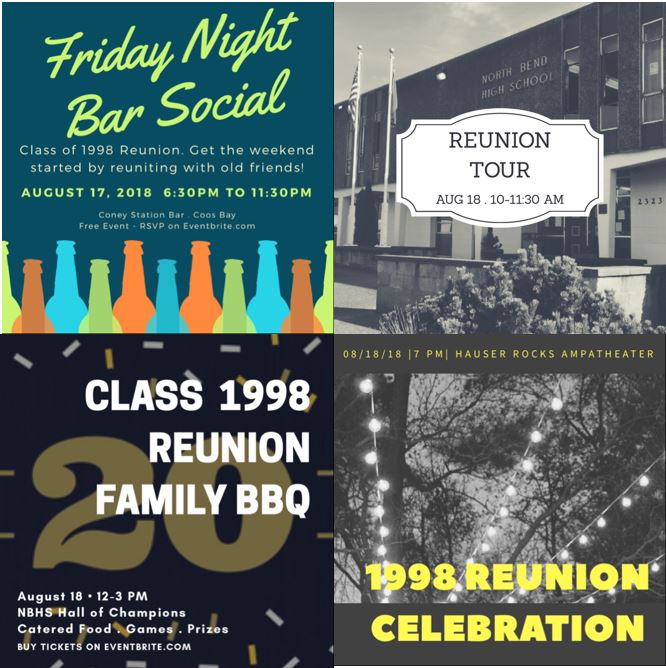 FRIDAY, AUGUST 17, 2018
Friday Night Bar Social at Coney Station (Adult Event) - 6:30 PM
---
Reconnect with classmates Friday night at Coney Station Bar in Coos Bay. There is no event cost for this causal "mixer." Classmates pay for thier own drinks and food at the venue. Please register so we can get a headcount for attendance.
SATURDAY, AUGUST 18, 2018
School Tour at NHBS (Family Event) - 10:00 AM
---
Haven't seen the high school since senior year? Want to show your family where you went to school?
Join us for a tour of the high school highlighting the changes from 1998 and what is currently happening now! This is a no cost event, but we are collecting donations for the NBHS Clothes Closet, which has helped change the lives of local students in need. Your suggested voluntary $15 per family donation will go directly to the charity organization. The Class of 1998's goal is to raise $500!
Family BBQ at NBHS Hall of Champions (Family Event) - 12 PM
---
Meet at the high school track after the reuntion for lunch. It is a catered event and will have food, games, and prizes! This we be a great time to catch up as well as taking time to remember our fallen classmates.
Cost for this fully catered event is $15.00 per adult and $7.50 per child.
Class Reunion Party at Hauser Rocks (Adult Event) - 7:00 PM
---
When the sun sets, we will meet for an outdoor evening at classmate Danny Emmett's Hauser Rocks Amphitheater. Come reunite with old classmates and stay for the party! This event is 21 years or older and entertainment, drinks tickets, and light snacks are free with paid admission.
Live music, Karaoke, or a DJ will play music all night. If you plan to drink, please drink responsibly and share a cab or have a designated driver. We can work on details for a carpool or plan to take share a taxi ($12 each way).
Cost for admission is $20.00 per adult.