North Bend Beer Runners *Socially Responsible* 1st Annual Turkey Trot. Stay safe, run on your own time, have fun, donate to your community!
About this Event
The Turkey Tot - an event that families look forward to every year! This year, start a new tradition with a *Socially Responsible* Turkey Trot right here in North Bend!
How it works
Register on NBturkeytrot.eventbrite.com
Donation includes a free Turkey Trot sticker!
Official NBBR face masks for sale during checkout.
Run the course anytime Tuesday–Sunday Thanksgiving week.
Unmarked course-follow along on Strava, Garmin, or print the map.
Share your run using this form to get on the leaderboard.
Stickers
Stickers are running low due to such an overwhelming turnout! If there are no stickers left when you complete your run, please email northbendbeerrunners@gmail.com with a quantity and we'll make sure to get them to you after the event. Thanks for understanding!
Did you purchase an official NBBR face mask?
If so, we appreciate it! If not, what are you waiting for? Quantities are limited and these won't last long. Mask pickup is Saturday, November 28th, from 4-6pm at Volition Brewing in North Bend. We will be there having a brew so stop by, say hello, and pick up your mask! If you are unable to make this work, no worries at all. We will be reaching out for all runners who have not claimed their masks to make follow up arrangements.
Route Options
If you've ever joined the North Bend Beer Runners for a group run, you know we strive to design routes that are fun yet accommodating to all ages, paces and abilities. This course is no different! There are 3 ways you can run the course - Kids half mile, 5k, or 5 mile.
All Routes
Course is designed to minimize major road crossings.
Use traffic lights and lighted pedestrian walkways when available.
Course is designed to stay on paved/ concrete/ boardwalk/ hard-packed gravel to increase accessibility for participants on wheels.
When running at night, please wear your headlamp.
Zipline Start and Finish Line
Jump start your run with a zip on the zipline and zip through the finish line on the zipline! Located behind the ball field at Si View Park. This is also behind the main building where the pool and classrooms are located.
Kids Half Mile Option
Loop once clockwise around Si View Park.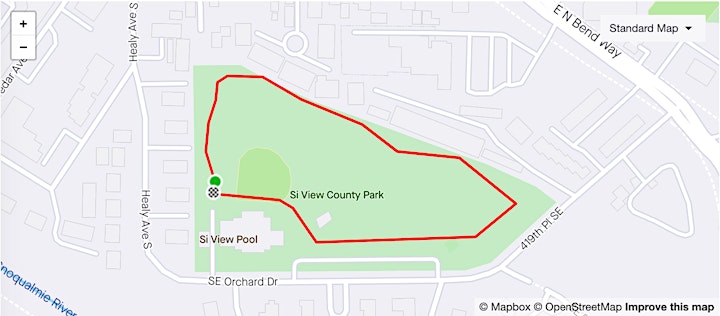 5k Option
Si View Park, Torguson Park, SVT, South Fork River Bridge, Snoqualmie Valley Food Bank, Downtown - Some of the best of North Bend on this fun 5k course!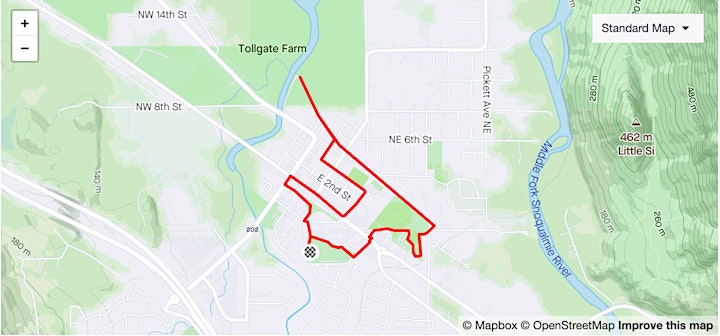 5 Mile Option
Run the 5k course with one addition, a loop around the Tollgate cow farm!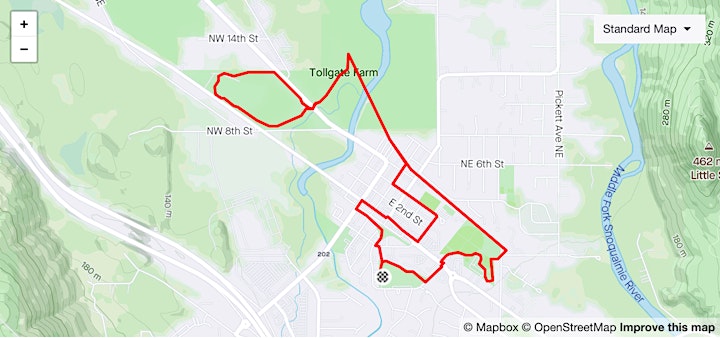 Remember...
The goal is to have fun and be safe! Please follow the current state and local guidelines for the COVID-19 pandemic, be sure to wear your headlamp at night, and most of all have a great time!
Leaderboard
There are no official prizes, but we will try to have fun with a digital leaderboard of some sort. For example, ranking may include fastest male/female times for each distance, most times run the course, most zipline trips, etc. This is the first time we are doing this type of leaderboard, so please keep that in mind and we take any and all thoughts on how to improve!
To be eligible for the leaderboard:
Run one of the course options during the specified dates.
Record your route using a GPS timer like Strava, a GPS watch, etc.
Share your run by using this Google Form.
You must share either a publicly available link OR a screenshot / image of your route which must include a GPS trace of your route, the date/ time of the run, and a total time for the run.
For kids, you can also enter a time manually - no cheating!
Post Run Cheers & Swag
Stop by Volition for a beverage and enjoy 15% off for all non-Founders. Volition is operating limited hours with curbside pickup, and outdoor seating is limited and weather dependent. Their current hours are Thurs–Fri from 3–6pm. Shhh... The discount code for registered runners/ walkers to use at checkout is [check your confirmation email/ tickets or email northbendbeerrunners@gmail.com if you still can't find it]. Order at https://volitioncurbside.square.site/ and make sure to check the latest hours before heading over.
Mask pickup is Saturday, November 28th, from 4-6pm at Volition Brewing in North Bend.
Who are the North Bend Beer Runners?
Beer Runners is more than just a running club, or a drinking group. It is a community and movement – both locally and globally – that comes together regularly to support member's running goals "in the interest of science."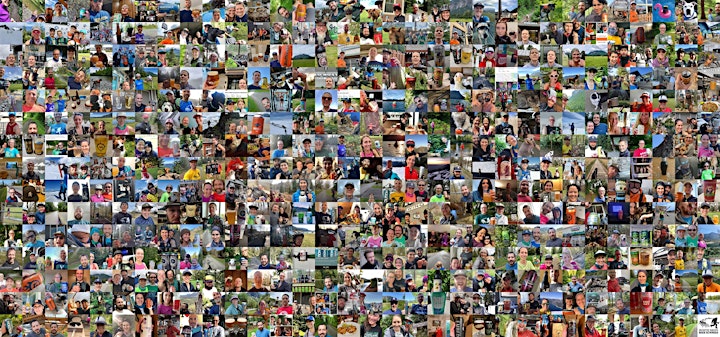 Our Mission
The primary mission is to "test "and promote the results of a scientific research study conducted by Dr. Manuel J. Castillo, Professor of Medical Physiology, School of Medicine, University of Granada, Granada, Spain. The study reported that beer and water have similar rehydration effects under the conditions of his study which compared a moderate amount of beer (660 ML) to the same amount of water.
Our Goals
Encourage people to exercise by running (or walking)
Provide friendly camaraderie
Support and raise funds for non-profits organizations and charitable causes
Promote the responsible enjoyment of QUALITY beer
Support local tavern owners and breweries
Say Hello!
We are always taking new members and working with new businesses. Please feel free to reach out to Stockard and Matt on Facebook, Strava, and northbendbeerrunners@gmail.com.