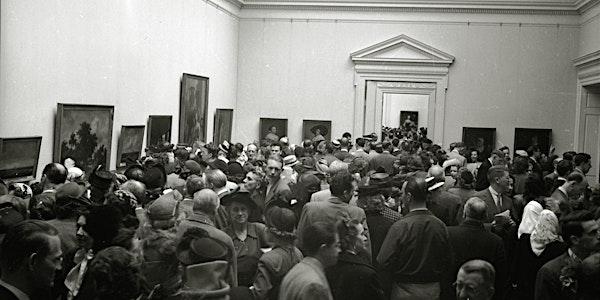 NAZI-ERA PROVENANCE RESEARCH: THE IMPORTANCE OF TRANSNATIONAL EXCHANGE
Description

Please join us for the PREP Public Program
NAZI-ERA PROVENANCE RESEARCH: THE IMPORTANCE OF TRANSNATIONAL EXCHANGE
This program will reflect on the historical development of Holocaust-era provenance research in museums and research institutions over the past 20 years, from challenging beginnings to present-day accomplishments. German and American experts will compare and contrast approaches to this work; consider how access to research resources and to provenance online have been supported and sustained in our institutions; and explore the vital role of transnational exchange. More broadly, they will discuss the civic role museums play, and how historical, political, and legal contexts impact provenance research at museums.
Speakers include: Sharon Cott, Senior Vice President, General Counsel, The Metropolitan Museum of Art, New York; Gero Dimter, Vice President, Stiftung Preussischer Kulturbesitz, Berlin; Stuart Eizenstat, Expert Advisor for Holocaust Issues, US Department of State; Irmgard Fellner, Directer of Cultural Relations Policy, Foreign Federal Office, Republic of Germany; Christian Fuhrmeister, Research Department, Zentral Institut für Kunstgeschichte, Munich; Richard Kurin, Distinguished Scholar and Ambassador-at-Large, and Laurie Stein, PREP Senior Advisor, Smithsonian Institution; Simone Lässig, Director, German Historical Institute, Washington, DC; Anne Helmreich, Associate Director, Digital Initiatives, Getty Research Institute, Los Angeles, and Lynn Nicholas, author of The Rape of Europa: The Fate of Europe's Treasures in the Third Reich and the Second World War.
Reception to follow
For more information about PREP visit provenance.si.edu
This program will be videotaped and available at provenance.si.edu. Your attendance will signify your permission to use any resulting images for PREP/GHI purposes.
Photo: Crowds attending the exhibition, Paintings from the Berlin Museums at the National Gallery of Art, March 17-April 23, 1948. Credit: National Gallery of Art, Washington, D.C., Gallery Archives.
Organizer of NAZI-ERA PROVENANCE RESEARCH: THE IMPORTANCE OF TRANSNATIONAL EXCHANGE
Organized by the Smithsonian Institution, German Historical Institute, and the Goethe Institut, Washington, D.C.

Held in conjunction with the 6th German/American Provenance Research Exchange Program (PREP) for Museum Professionals, October 20-26, 2019, organized by the Smithsonian Institution, Washington, DC., and the seven PREP partners.

Major support for PREP comes through a German government grant funded by the German Program for Transatlantic Encounters, with additional financial support from Germany's Federal Commission for Culture and Media, the program's six key PREP partners, and the Smithsonian Women's Committee.

Additional funding comes from Norman and Suzanne Cohn, Howard and Roberta Ahmanson, James P. Hayes, Lois Jecklin, Jerry and Gwen Paulson, Eskin Family Foundation, Ferdinand-Möller-Stiftung, Berlin, Eskin Family Foundation, Kathryn Hughes and John Christian, Brian Daggett and Franz Rabauer, and Ruth Abrahams Design.