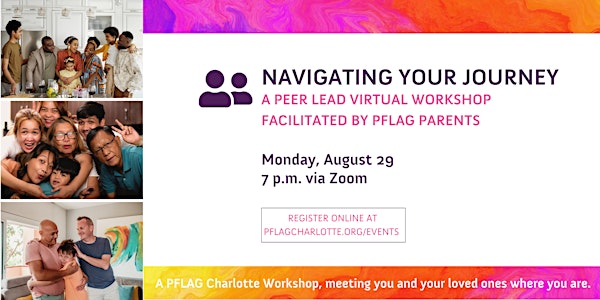 Navigating Your Journey: For Parents & Caregivers of LGBTQ+ Individuals
Learn LGBTQ+ identity, social/health challenges, area resources, and much more in this educational workshop.
Date and time
Monday, August 29, 2022 · 4 - 6pm PDT
About this event
PFLAG Charlotte's Navigating Your Child's and Your Family's Journey is a workshop for parents & caregivers of LGBTQ+ individuals.  
Whether your loved one is 5, 15 or 45, has recently come out to you or has been out for years, whether your child is lesbian, gay, bisexual, transgender, nonbinary, gender diverse, or just trying to figure it all out . . . this is a safe and welcoming program for you to learn from the experiences of others. 
In this workshop, PFLAG parents will meet you where you are.  You'll hear personal stories from  PFLAG parents on how their family navigated their journey.  You'll learn LGBTQ+ nomenclature, area resources, and many others tips, tools, and strategies for understanding, supporting and advocating for your loved one.  We'll cover topics like finding an affirming healthcare provider to working with your child's school to growing as an ally.  Dr. Sebastian Barr will discuss the social and health challenges faced by LGBTQ+ individuals and will share his perspectives on the roles that parents and caregivers can play in mitigating risks and building resilience for both themselves and their LGBTQ+ loved ones.
About the organizer
PFLAG Charlotte provides support for families, allies and people who are LGBTQ, education for ourselves and others about challenges facing LGBTQ individuals, and advocacy in our communities to build a more equitable future.