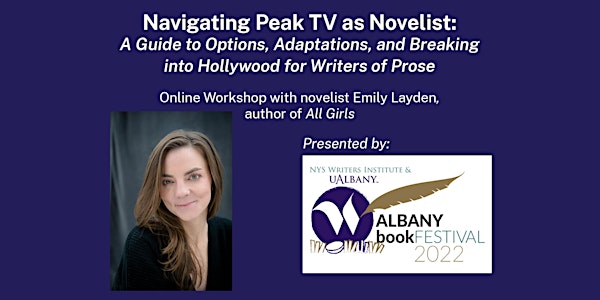 Navigating TV as a Novelist: Breaking into Hollywood for Writers of Prose
Navigating Peak TV as Novelist: A Guide to Options, Adaptations, and Breaking into Hollywood for Writers of Prose with author Emily Layden
About this event
This virtual workshop is a featured event of the 2022 Albany Book Festival.
*Workshop will be conducted on Zoom. Link to the Zoom meeting will be shared with registered participants before the workshop or click "View the Event" in your order confirmation.
Although the relationship between publishing and Hollywood has always been a close one—with a rich history of the film industry mining the book world for original ideas to make into iconic films (see: The Great Gatsby, The Godfather, The Shining…)—never before have the gates to Tinseltown been so wide open to novelists. Spurred by the proliferation of streaming services and our current era of "prestige television," writers of prose are finding new lives not only for their work (Big Little Lies, The Queen's Gambit, Little Fires Everywhere) but also entirely new avenues for their careers. In this workshop, we'll break down the option process, discuss pitching and adapting your work for the screen, and outline three key differences between novel writing and screenwriting. Participants should bring an original concept to class (an idea is fine!), and will leave with an understanding of how to position their story as a series or feature.
About Emily Layden:
Emily Layden is the author of All Girls, a New York Times Book Review Staff Pick, and the forthcoming novel Once More From the Top. She adapted All Girls for television at HBO, and has other development work in progress.
To learn more about Emily Layden, visit: https://www.emilylayden.com/
For more information on the Albany Book Festival, visit: https://www.albanybookfestival.com/
Special thanks to our Albany Book Festival Sponsors:
Presenting:
Bernard F. Conners Foundation; Pernille Ægidius Dake; Literary Hub; Bruce Piasecki & The Creative Force Fund; Renaissance Corporation of Albany; Times Union; University Auxiliary Services
Supporting:
Brown & Weinraub; Hannay Reels; Ellen Jabbur; Richard and Carol Miller; The Swyer Companies
Friend:
A. Andrew Casano, MD & Bella Pipas; Ann and Don Eberle; Fenimore Asset Management / FAM Funds; The Foy Fund; Henry Greenberg; Paul and Mary Grondahl; Heslin Rothenberg Farley & Mesiti; Dr. Richard Holub, Neurological Associates of Albany; William and Dana Kennedy; Terence Kindlon & Laurie Shanks; William & Mary Jean Krackeler; Betsy Lopez; Mackin and Casey; Sheila Mahan & Peter Sanzen; Doris Fischer Malesardi; H. Carl McCall & Dr. Joyce F. Brown; Steve McKee Foundation; Robert and Roberta Redmond; Mary Scanlan; Herb and Cynthia Shultz; James and Teresa Stellar; UAlbany William L. Reese Emeritus Center Three Voices Grant Program