Navigating the Great Turning - An Un-Conference to Be The Change

Saturday, April 30, 2011 from 9:00 AM to 5:30 PM (PDT)
Event Details
Pre-registration is closed, but tickets are still available at the door from $35 and up -- cash or cheque is preferred, but credit card options are available. See you tomorrow!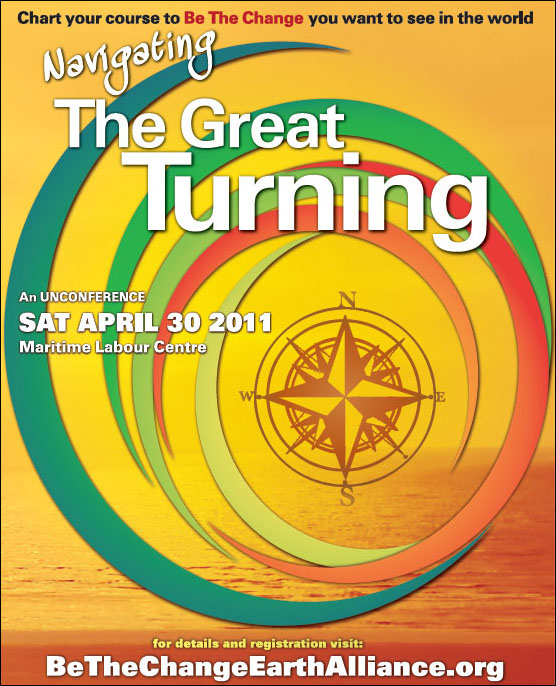 Join hundreds of change agents and over 40 passionate community leaders to explore how we can create a sustainable future through action, innovation, and consciousness.

Engage with leaders from Greenpeace, Village Vancouver, Oxfam, and dozens of other leading organizations in a day of inspiring broad vision talks, intimate circle dialogues, artistic performances, and organic vegeterian lunch.
There are many pieces to the puzzle of our emerging future, and your role is pivotal. Come join us and Be The Change at the Great Turning Un-Conference on Saturday, April 30th, at the Maritime Labour Centre in Vancouver!

Please note that standard and pay it forward tickets include free admission to The Quickening as well. If you would like to attend The Quickening but cannot make it to the Unconference, or have purchased a Pay What You Can ticket, please click here to view your options.
Great Turning speakers include:

ACTION:
Miriam Palacios, Oxfam Canada: Women & Food Justice
Ben West, Wilderness Committee: Oil Tankers in our Harbour
Jessica Wilson, Greenpeace Canada: Tar Sands Travesty
Tyee Bridge, The WIld Salmon Circle: Fish Farms


Carmen Mills & Eric Dohe

t

ry: Join the Wave, Stop the Pave
Taina Uitto, Plastic Manners, Living Without Plastic
Karl Perrin: Pilgrimage to Burns Bog
Melanie Schambach, www.goldminingart.com: Vancouver's Goldcorp in Latin America
Ana Linares, Justicia for Migrant Workers BC: Migrant Farm Labour in BC

John Vissers, Fraser Valley Conservancy: Community Rail
Joe Foy: Wilderness Committee: Clayquot Sound
Inge Mueller-Langer, Save The Elms of East 6th: Valuing Our Urban Forest

INNOVATION:
Andrea Reimer, Vancouver Deputy Mayor: Community Resiliency
Jeff Chiu, BC Hydro: Community Energy Conservation
Ross Moster, Village Vancouver: Neighbourhood Food Networks
Jordan Bober, Village Vancouver: Community Currencies
Ann Pacey, Village Vancouver: Emergency Preparedness
Louise Towell, Stream of Dreams: Urban Streams
Rosemary Cornell, Be The Change: Neighourhood Plastic Depots
Chanel Ly, Windermere Secondary: School Gardens
Susan Maxwell & Helen Spiegelman, Zero Waste BC: Zero Waste
Grant Watson, Grant's Gourmet Gardens: Edible Landscapes
Anya Chase, Backyard Beekeeping Group: Backyard Beekeeping
Gregory Almas, Be The Change: Action Circles
David Tracey, EcoUrbanist: Engaged Ecology
Olive Dempsey, City of Vancouver: The Greenest City
Amy Tran, Environmental Youth Alliance: Seed Saving
Joanne Bays, Food Policy Council: Local Food in Institutions
Nickolas Grabovac, Vancouver Permaculture Meetup: Permaculture: Design for Sustainability
Erin Nichols, FarmFolkCityFolk: Local Food Online
CONSCIOUSNESS:
Rex Weyler, Co-Founder, Greenpeace: Shambhala Warrior Today
Ajay Puri, Rangi Changi Roots: Bringing Colour to the Green Movement
Suzanne Barois & Anne Thompson, What's Your Tree: Finding Your Purpose and Passion
Jeffrey Armstrong, Vedic Academy: The 10 Words: A Universal Vocabulary for a Global Spiritual Community
Mia Amir, Transformative Communities Project: Arts for Community Empowerment
Kate Sutherland: Make Light Work: Inner Work Tools for Joyful, Effective Action
Naomi Steinberg, Vancouver Society of Storytelling: Community Storytelling
Conrad Schmidt, Work Less Part: Work Less!
Tara Mahoney & Fiona Rayher, Gen Why Media Project: Activating Gen Why
Maureen Jack-LaCroix, Be The Change: Evolving Consciousness
Date: Saturday, April 30, 2011
Time: 9:00am to 5:30pm (Coffee, yoga, and registration at 8:00am)
Location: The Maritime Labour Centre, 1880 Triumph Street, Vancouver, BC, V5L 1K3 (click here to view a map of the location)

Tickets will be available at the door from $35 and up, but we encourage all participants to pre-register through this page. We are pleased to offer a sliding scale, pay-what-you-can pricing plan.

* Please note that we cannot process refunds at this time. All sales are final.

** Please note that it is not necessary to print your Eventbrite ticket - upon registration, you will have been entered into our internal records. Save paper!

The Great Turning is presented in Partnership With:



When & Where

Maritime Labour Centre
1880 Triumph Street
Vancouver, British Columbia V5L 1K3
Canada

Saturday, April 30, 2011 from 9:00 AM to 5:30 PM (PDT)
Add to my calendar