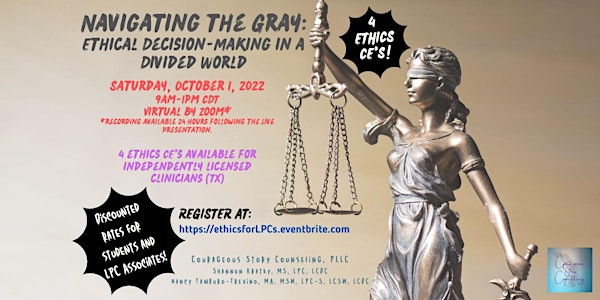 Navigating the Gray: Ethical Decision-Making in a Divided World
Ethical Decision-Making for Professional Counselors
About this event
**ATTEND LIVE OR ACCESS THE RECORDING THROUGH DECEMBER 31, 2022**
Ethical decision-making can be a complex responsibility for professional counselors, especially in a world that has seemingly become more divided. What is the "right" thing to do in this situation? Does the "right" thing change if the situation is different? Is there only 1 "right" choice, or are there simply better choices than others? Are there clearly "wrong" choices? How do we maintain the sacredness of the counselor-client relationship and make difficult decisions related to ethical dilemmas?
In this highly interactive workshop, participants will learn tools they can use to navigate the gray areas of ethical decision-making in a divided world. Together, we will explore the principles of professional counseling, including autonomy, beneficence, non-maleficence, fidelity, justice, veracity, and self-respect, as they apply to ethical decision-making.
Participants will learn about theories and models for ethical decision-making, as well as relevant ethical codes and legal requirements related to various ethical dilemmas, including client disclosure of unlawful activity, addressing decisions and behaviors of peers in the field, identifying the presence of abuse against a vulnerable population, and more. Participants who attend live will also have the opportunity to ask questions and apply the tools learned to case examples.
Learning Objectives
Following this workshop, participants will be able to:
Identify at least 2 ways to consider cultural factors in resolving ethical dilemmas related to professional counseling.
Identify and implement at least 2 ethical decision-making models in resolving ethical dilemmas related to professional counseling.
Describe the importance of locating and citing relevant ethical codes from the American Counseling Association Code of Ethics (2014) and legal mandates.
About the Presenters
Shannon Kratky, MS, LPC, LCDC, NCC
Shannon Kratky is a Licensed Professional Counselor (LPC) and Licensed Chemical Dependency Counselor (LCDC) in the State of Texas. She holds a Masters of Science degree in Clinical Mental Health Counseling from The University of Texas at San Antonio and Bachelors degree in Psychology and Addictive Disorders and Recovery Studies from Texas Tech University. She is currently pursuing her PhD in Counselor Education and Supervision at Oregon State University.
Shannon has worked in the field of mental health since 2009, when she started her career as a Special Education Teacher for students experiencing behavioral and mental health concerns. She has worked in multiple settings throughout her career in mental health, including employment as an advocate and counselor at the Rape Crisis Center, field researcher for the National Drug and Alcohol Study, and Behavioral Health Specialist in the Greater Denver Metro Area. Shannon has journeyed alongside fellow humans in residential and outpatient centers who are seeking recovery from mental health concerns, including post-traumatic stress, anxiety, depression, and substance use. She currently specializes in the treatment of (Complex) PTSD, addiction, and substance use/mis-use.
Shannon is certified in Eye-Movement Desensitization and Reprocessing (EMDR) Therapy through the EMDR International Association and enjoys utilizing this evidence-based, mind-body therapeutic modality to help clients experiencing anxiety, depression, post-traumatic stress, and other forms of "disturbance" in their lives.
Shannon has presented at various national conferences and universities on numerous topics, including LGBTQiA+ needs, (Complex) PTSD, childhood sexual abuse, human- and sex-trafficking, addiction and substance use/mis-use, trauma-informed care, self-care, private practice, professionalism, and more. She thoroughly enjoys connecting with others through teaching and collaboration.
Shannon currently serves as Vice Chair of the Advisory Council for the National Board of Certified Counselors' Minority Fellowship Program in Addictions Counseling. She also serves on the NAADAC (The Association for Addiction Professionals) LGBTQiA+ Advocacy Committee. Shannon enjoys and values her opportunities to advocate for her fellow humans, as well as the counseling profession.
While attending UTSA, Shannon was awarded and completed the Minority Fellowship Program in Addictions Counseling by the National Board of Certified Counselors Foundation (NBCCF), where she committed to providing services for underserved and never-served populations. As a mental health and substance use counselor, Shannon remains committed to serving these populations.
Nancy Tamburo-Trevino, MA, MSW, LPC-S, LCSW, LCDC
Nancy Tamburo-Treviῆo has been practicing the art of helping others heal for over 25 years. A graduate of The University of Texas at San Antonio with a Master of Arts in Educational Psychology and Simmons College with a Master's in Social Work, she holds licensure as a Licensed Professional Counselor-Supervisor, Licensed Clinical Social Worker and Licensed Chemical Dependency Counselor.
She has worked with non-profits in Texas, New York and California, focusing on helping those suffering from substance use disorders, as well as multitude of other stressful life situations. She has experience in working in civilian personnel, with a major behavioral health insurance company, and youth organizations focusing on prevention strategies away from substance use. She also has expertise in facilitating and co-directing women's and youth spiritual retreats. Her most recent work experience is serving clients connected to felony drug court, in order to help them receive integrated treatment services.
She has received training in Eye-Movement Desensitization and Reprocessing (EMDR) Therapy, believing in the healing power of the brain and creating an environment where clients can begin their healing journeys. She is a clinical member for the American Association of Marriage and Family Therapy (AAMFT) and a current member with the National Association of Social Workers, the EMDR International Association and the American Association of University Women (AAUW), San Antonio's chapter. She has facilitated staff trainings on use of self, trauma-informed care, presented at state conferences, and supervised Master-level students and Licensed Professional Counselor interns as they worked on their higher education degrees and state licensure.
Contact Information
If you have any questions or concerns regarding this workshop, please contact Shannon or Nancy at csc@courageousstorycounseling.com