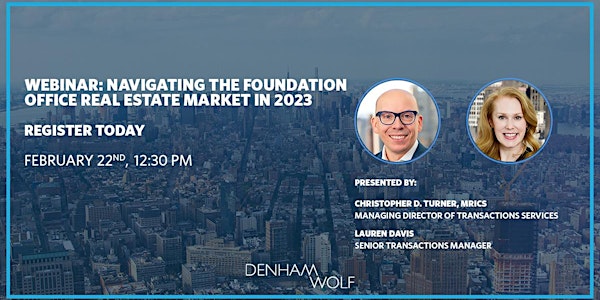 Navigating the Foundation Office Real Estate Market in 2023
Stay up to date with the state of the market, new workplace strategies, and negotiating tips.
About this event
Please join Denham Wolf and fellow Foundation executives on February 22nd for a Foundation-focused real estate strategy webinar from 12:30 pm – 1:30 pm. Learn more about the state of the commercial office market, gain insight into hybrid/workplace strategies, understand the benefit of owning vs. leasing and discover new negotiation strategies. If your lease is expiring soon, you are considering purchasing/selling, or you want to stay informed, sign up today for this webinar.
At Denham Wolf, we are committed to New York City's nonprofit community, and we are tenacious in our efforts to gain a competitive advantage and build capacity for these organizations.
Register today for: Navigating the Foundation Office Real Estate Market in 2023