Navigating the Digital World Featuring Rachel Sterne Haot New York City's C...
Location
Bakehouse
113 Horatio Street
New York
10014
Description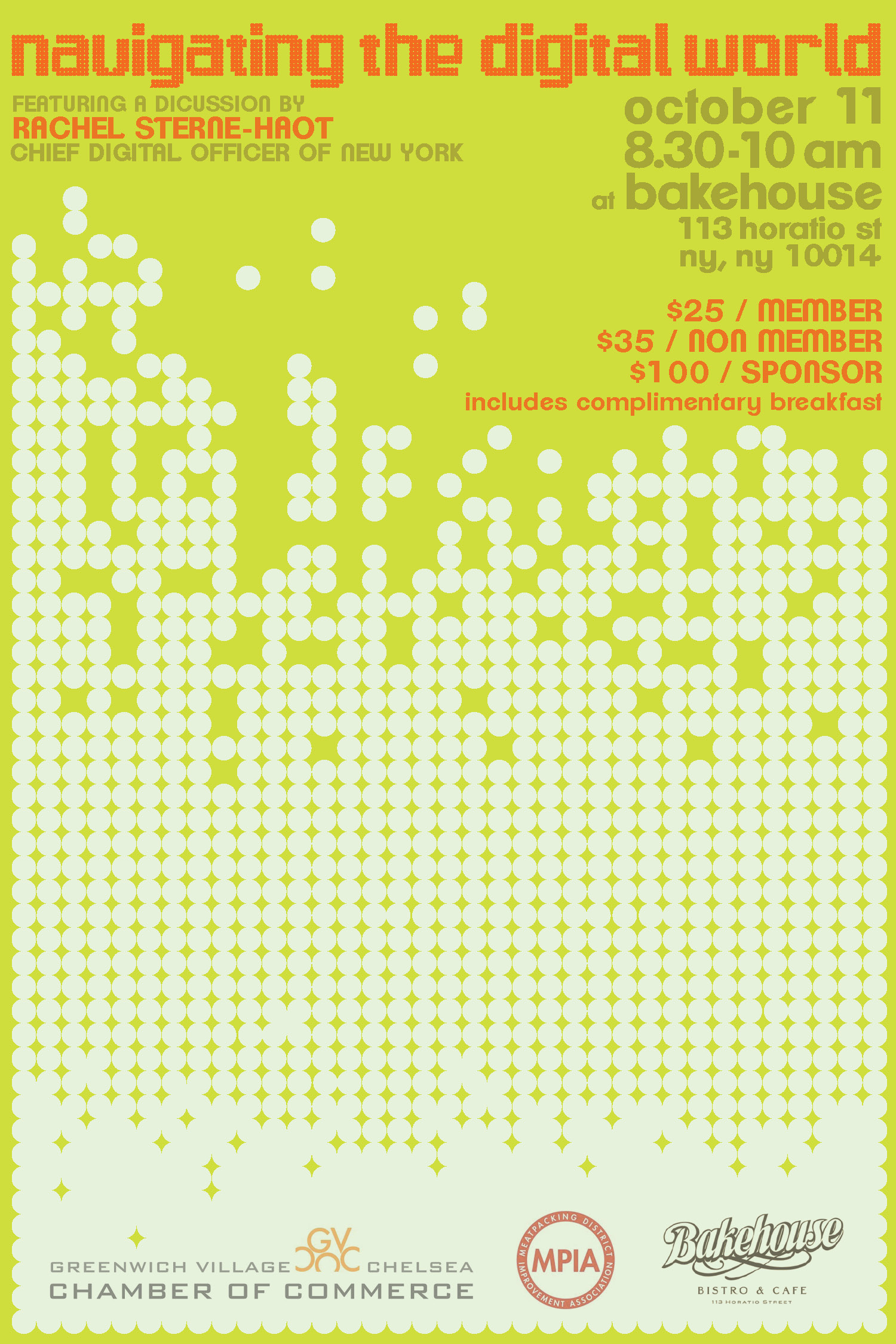 Event Sponsors:

DNAinfo.com is New York's leading hyper-local news source, covering New York City's neighborhoods. We deliver up-to-the-minute reports on entertainment, education, politics, crime, sports, and dining. Our award-winning journalists find the stories — big or small — that matter most to New Yorkers.
More Information on the Toolkit:
- The City launched a new set of free tools to help small businesses in New York City use digital technologies and social media to grow their businesses and expand their customer base, with the intention of spurring greater local economic activity
- The new set of resources, offered online and at NYC Business Solutions Centers throughout the five boroughs, is called the Small Business Digital Toolkit.
- Through a partnership with NYC Digital, the Department of Small Business Services will offer small businesses free training and resources to digitally attract customers, conduct business online and market their products or services through the use of e-commerce technology.
- Small businesses will have the opportunity to learn how to leverage social media more effectively, launch a website, and incorporate new strategies, such as online advertising and search engine optimization, to maximize all web-based properties.
- Classes will be taught throughout the remainder of 2012 and 2013 at NYC Business Solutions Centers throughout the City. Join us for breakfast to find out more about these and other free classes offered by NYC Business Solutions.
About Rachel:
Rachel Sterne is Chief Digital Officer for the City of New York, where she focuses on the City's digital media strategy.
Prior to this position, she was CEO of GroundReport, a global news platform that democratizes the media and supports over 9,000 active international contributors who cover the world from the ground up, breaking stories and vetting reports as a community. To learn more about Rachel click HERE.