Navigating Technology Transfers from Research Institutions
Join us for our upcoming webinar on how medical startup companies can transfer technologies from research institutions.
About this event
Research institutions like universities and federal research labs, are gold mines of key opinion leaders and innovative technologies that can be mined by entrepreneurs. Technology transfer professionals are working to build partnerships with entrepreneurs to bring technologies to market. These professionals can help companies find expert advisors, service providers, and funding to grow your company and demonstrate value in the clinic. Through a panel discussion and live Q&A with seasoned experts, you'll learn how to partner with research institutions.
Moderators
Steven Levine, MD, Founder, CEO, and President of dB Diagostics and Co-Founder and Director, SoPE
Dr. Steve Levine is the founder of dB Diagnostics, inventor of Hearing Healthcare Pro™ Product Suite, and majority shareholder. He is a clinical practicing otolaryngologist with 35 years' experience and Assistant Clinical Professor at Yale University School of Medicine. He has been listed by Castle Connolly as a Top Doctor for 15 consecutive years, and has been named such in New York Magazine, US News and World Report, and others. Levine has served on the Board of Governors of the American Academy of Otolaryngology-Head & Neck Surgery including its Executive Committee at an elected post, and has been granted both an Honor Award and Distinguished Service Award from the Academy. He has been a past president of the Connecticut Ear, Nose & Throat Society and is a Council Member of the Connecticut State Medical Society. Levine organized and created HearOPG, a consortium of independent hearing aid retail businesses connected to otolaryngology practices mostly in Connecticut. He is a founder of ATSS, a software development company formed in 1993 that created a black box interface for revenue cycle management systems and electronic medical records to generate accurate evaluation/management service CPT billing codes. He was a Director of the Connecticut Bank of Commerce, a public bank that focused business on asset based lending and accounts receivable financing. Levine is a co-founder of the Society of Physician Entrepreneurs (www.sopenet.org) and Chapter Leader of the New York TriState Chapter of that Society. He has a BS from the Sophie Davis School of Biomedical Education at the City College of New York and MD from the University of Rochester. Levine did residency training at University of Pennsylvania.
Brian Coblitz, Ph.D. - Interim Managing Director, GW Technology Commercialization Office
Brian Coblitz directs intellectual property protection and licensing for technologies developed at the George Washington University (GW). For over 9 years he managed the life sciences portfolio at GW, including the licensing of a drug for septic shock, which is on the market. He has helped to establish many life science startup companies based on GW technologies. Brian is also an angel investor and a member of the Life Science Angels. He is a registered U.S. Patent Agent. Prior to starting his career in technology commercialization at the NIH, Brian completed his postdoctoral studies on the sense of touch with Marty Chalfie at Columbia University. Brian's Ph.D. and B.S. degrees came from the Johns Hopkins University School of Medicine and Tulane University, respectively.
Panelists
Ami D. Gadhia, J.D., LL.M., C.L.P., Senior Technology Transfer and Patenting Specialist
Office of Strategic Alliances, National Center for Advancing Translational Sciences - National Institutes of Health
Ami Gadhia serves as a senior technology transfer and patenting specialist in NCATS' Office of Strategic Alliances, where she facilitates the collaborations of NCATS scientists. She drafts, negotiates and executes various agreements for joint research and development projects. Ami launched her technology transfer career at Johns Hopkins University (JHU) in 2007. At JHU, she led a team of licensing professionals and managed her own docket of technologies. Her teams spanned cross-functional divisions, including medical devices, imaging and licensee compliance. Prior to working at Hopkins, she prosecuted patents in private practice for individual entrepreneurs, companies ranging in size from start-ups to large corporations, and governmental agencies. Ami also handled trademark and copyright prosecution, licensing and intellectual property (IP) litigation.
Ami earned her B.S. in chemical engineering and her juris doctorate, both with honors, from Wayne State University in Detroit, Michigan. She also completed a master's in IP law at the George Washington University Law School.
Ami has authored various articles and spoken at many industry conferences. She is a certified licensing professional, is registered to practice before the United States Patent and Trademark Office and is a member of the State Bar of Georgia.
Felicia Metz, Esq., Associate Director
University of Maryland - UM Ventures
Felicia Metz is the Associate Director for the University of Maryland's UM Ventures. Felicia leads and facilitates UMD's technology transfer activities and advises on IP policies, patent prosecution, IP-portfolio development, tech transfer strategies, and licensing. Felicia received her B.S. in biological sciences from the University of Maryland and her J.D. magna cum laude from the University of Baltimore School of Law. She is a member of the Maryland bar and is registered to practice before the United States Patent and Trademark Office.
Donna Rounds, Ph.D., Interim Senior Technology Licensing Officer
Center for Technology Licensing at Cornell University (CTL)
Donna Rounds has over 20 years of building value in early-stage life science technologies—from sourcing emergent technologies to developing strategies for commercialization. She specializes in managing complex scientific and business relationships and leveraging the synergy of cross-functional teams in due diligence and technology assessments, prototype development, and proof-of-concept studies. She received her doctorate in molecular biophysics and biochemistry at Yale University then went on to the world of start-up companies as one of the founders of Physiome Sciences, Inc., the first in-silico drug discovery platform using computational models of cells, tissues, and organs. She has worked extensively with physician-entrepreneurs at the British Technology Group (BTG Plc) and at academic institutions from Columbia Technology Ventures (CTV) to Hospital for Special Surgery where she led the innovation and technology development program. She is currently an Interim Senior Licensing Officer at Cornell University focusing on medical innovations at Weil-Cornell Medicine.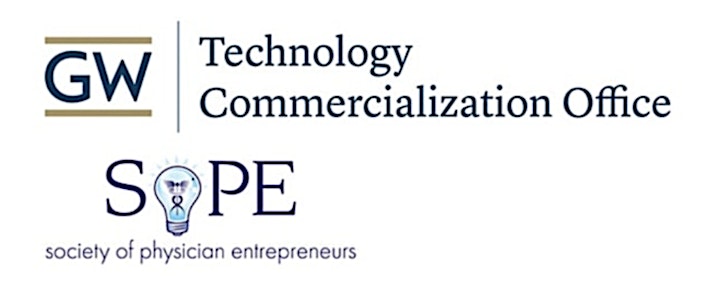 Organizer of Navigating Technology Transfers from Research Institutions
The Society of Physician Entrepreneurs (SoPE) is a global biomedical and healthcare innovation network with membership open to all healthcare professionals, entrepreneurs and industry stakeholders. SoPE was founded in 2011 by three physicians who shared a common vision - to empower physicians and other professionals to innovate healthcare through entrepreneurship.
SoPE continues to gain momentum with chapters across the United States, Turkey, China and the United Arab Emirates, as well as industry partners who directly support our members' efforts. Members include doctors, nurses, dentists, healthcare entrepreneurs, investors, engineers, academics, IT professionals and industry representatives. What brings them together? Our community members share a common focus - working at the crossroads of innovation and commercialization to make a difference in healthcare.
SoPE provides a platform for members to accelerate and catalyze innovation, as well as a separate supporting 501(c)(3) tax-exempt Foundation for scholarship and philanthropic endeavors to advance healthcare.