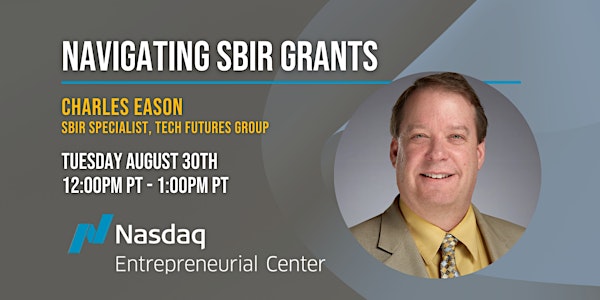 Navigating SBIR Grants
Navigating Small Business Innovation Research (SBIR) and Small Business Technology Transfer (STTR) programs with Charles Eason.
About this event
The Small Business Innovation Research (SBIR) and Small Business Technology Transfer (STTR) programs provide an opportunity for small businesses to tap into federal funding to conduct research and development on promising new innovations and technologies. With $3.7 billion available annually, the programs are a source of seed capital for early stage companies. SBIR/STTR funding can also serve as a pathway to equity financing by allowing businesses to demonstrate feasibility of new technologies and move toward commercialization.
This webinar will cover the following:
Overview of the SBIR and STTR programs
Qualifications and eligibility requirements for SBIR/STTR funding
How to determine if your innovation is a good fit for SBIR/STTR funding
How to search SBIR/STTR solicitations and topics
Grants versus Contracts
Difference between SBIR and STTR
Steps to preparing a SBIR/STTR proposal
Tips for increasing your success in securing SBIR/STTR funding
OUR SPECIAL GUEST
CHARLES EASON
SBIR Specialist, Tech Futures Group
Mr. Eason is the Small Business Innovation and Research (SBIR) Advisor for Tech Futures Group which is part of the Northern California Small Business Development Center (SBDC) Program. He has also been in statewide leadership positions as the Statewide Director for Business and Entrepreneurship for the California Community Colleges Economic and Workforce Development Program where he coordinated the business and entrepreneurship programs at the 116 community colleges, as the Associate Director of the California Community Colleges Statewide Economic Development Network (ED>Net), and as chair of the California Community Colleges Small Business Programs committee. In his positions as a former Small Business Development Center Director, Business Incubator Manager, and current work as a SBIR Advisor with Tech Futures Group, Mr. Eason has provided training and counseling to thousands entrepreneurs over the past twenty-five years. As an entrepreneur, Mr. Eason's business ventures have included a real estate development company, a chain of gourmet coffee houses, a business brokerage, and a tech startup that developed a rapid prototyping technology for 3D printing of houses with funding through a National Science Foundation (NSF) Small Business Technology Transfer (STTR) grant. Mr. Eason also worked in the aerospace industry as a systems engineer for TRW's Ballistic Missile Program. Mr. Eason earned a B.S. in Engineering Sciences from the University of California, San Diego and an MBA from California State University, San Bernardino.

The Nasdaq Entrepreneurial Center is a 501c(3) public charity whose mission it is to make entrepreneurship accessible to all. We deliver world-class resources and mentoring to enable every entrepreneur across the globe to realize their maximum potential. Please join us and make your gift to ensure these transformative programs may continue to reach the underserved.
All Nasdaq Entrepreneurial Center programs and services are extended to the public on a nondiscriminatory basis. Reasonable accommodations for persons with disabilities will be made if requested at least 48 hours in advance of this event; please send an email to webinarhost@thecenter.nasdaq.org with the subject header ACCOMMODATION REQUEST. For assistance with registration or other technical difficulties, please contact zooey.raveau@thecenter.nasdaq.org