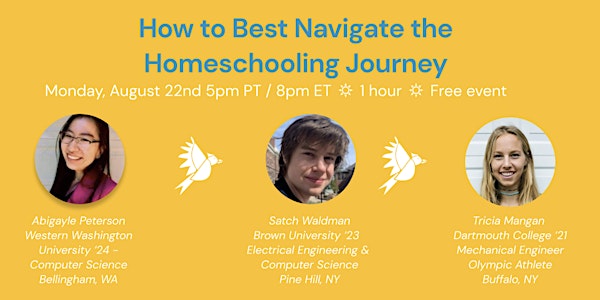 Navigating Homeschooling and Capitalizing on Unique Learning Opportunities
Homeschooling, Independent Learning and Finding Your Passions: How Curious Cardinals Can Help You Make the Most of Your Homeschool Journey
About this event
Come hear from three Curious Cardinal mentors, who will share what they learned from their own homeschool experiences! They will discuss how homeschooling shaped their education, tips for navigating independent learning, how to best capitalize on education resources and make the most out of your own homeschool journey. They are excited to answer all your questions and address your concerns on how to navigate homeschooling and create the best possible learning environment for your child to thrive.
Meet our panelists:
Abigayle Peterson - Engineering Wiz, Founder, Wellness Fanatic, Writer, Award Winning Speaker, Social Entrepreneur and Ed-tech Enthusiast
Abigayle is currently working as an iOS Engineering Intern at Bank of America before her junior year at Western Washington University where she is a Computer Science Major. She is the founder of Magnify Wellness App, President of Association of Computing Machinery and a National Science Foundation Scholar to name just a few of her any accomplishments. She is excited to share how homeschooling helped her find her passion and how she knew when she discovered what she was truly passionate about!
Satch Waldman - Nuero-electrical Engineering Intern, Programmer, Avid Runner, Musician and Enthusiast Skier
Satch is approaching his senior year at Brown University where he is an Electrical Engineering and Computer Science concentrator. He has extensive Engineering work experience ranging from working with an UAV agronomics start up to joining NueroPi, a student-run group working to create an EEG monitoring system for people with Epilepsy. He is also a computer science and 3D modeling wiz with a passion for running, Jazz, and skiing! Satch is looking forward to sharing how what he learned from his back and forth homeschooling and traditional school experience.
Tricia Mangan - Olympic Ski Racer, Mechanical Engineer, Founder, Female Sports Advocate, Speaker, and Outdoor Enthusiast
Tricia graduated from Dartmouth College last spring with a degree in Mechanical Engineering. She also competes full time as a professional downhill ski racer and has been to two Winter Olympic Games. She is passionate about encouraging female athletes to find empowerment through sport, supporting young students to believe in themselves, and helping as many people lead healthy and happy lives as possible. Tricia is excited to share her elementary and middle school homeschool experience and how it taught her to learn and grow independently in and out of the classroom.