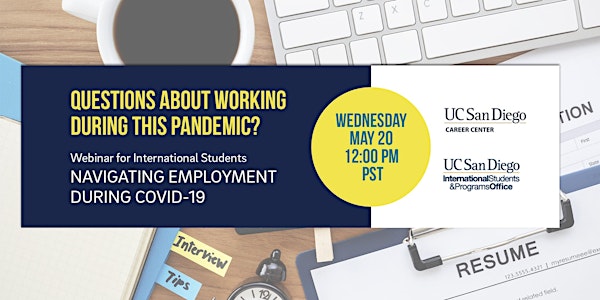 NAVIGATING EMPLOYMENT DURING COVID-19: A Webinar for International Students
The Career Center @ UC San Diego and ISPO invite you to learn about how COVID-19 has impacted employment for international students.
About this event
The Career Center and ISPO are teaming up to answer your most pressing employment questions during this pandemic. During this live webinar, you can look forward to discussing the following questions:
What should you do if you're on CPT/OPT and can't find a job?
What do the terms furloughed or laid-off mean?
How does remote work, changes in employment, and government office closures impact employment eligibility and your immigration status?
How can you best communicate these changes to employers?
What tools can you utilize to navigate your job search?
Tune in on Wednesday, May 20th at 12 PM PST where Career Center and ISPO will answer these questions and more!
Can't make this webinar? Stay updated by visiting iStudents.ucsd.edu for up to date COVD-19 FAQs for international students.