Location
The Brown Foundations Center
400 Metairie-Hammond Highway
Metairie, LA 70005
Refund policy
Contact the organizer to request a refund.
Eventbrite's fee is nonrefundable.
Family caregivers often unseen by the world are seen dearly by God. Grief, isolation, exhaustion & yes transformation leave soul imprints
About this event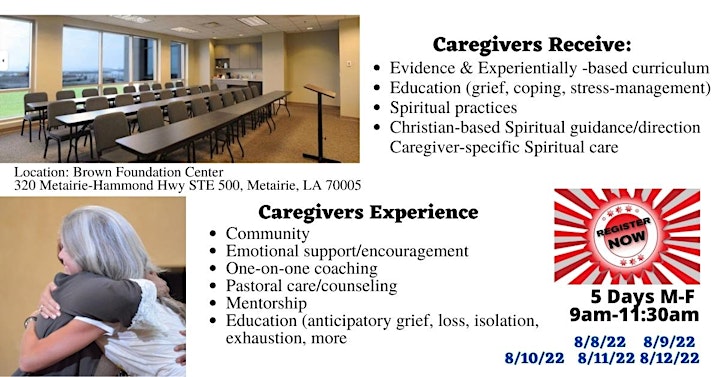 REGISTRATION NOW OPEN
In this combination education, training and support initiative Deborah Jackson, founder of HC3D (Helping Caregivers) and Heart to Soul Ministries is bringing her expertise as a Christian minister, Dementia educator, Soul health/helping professional and caregiver of 11 years to the forefront to help caregivers understand, and navigate the complex aspects of grief specifically related to giving care. Although trained with a Master's of Divinity, and completing her licensure of Clinical Mental Health Counseling, Deborah will tell you her most transforming life experience to date has been her 11 year journey caring for her Mother Mercedes.
The program is 5 Days, 2 hours (9am-11am with a 30 min optional after snack & coffee connect ) starting August 8th 2022. Caregivers will receive 2 hours of an evidenced-based curriculum which will include a combination of teaching, simple practices, Christian-based Spiritual guidance/direction and Spiritual care support and more all specifically designed for caregivers.
In addition, caregivers will receive the benefit of community, emotional support, encouragement, one-on-one coaching, Pastoral care, caregiver mentorship and impacting education as it relates to relevant resources and addressing the complex feelings of anticipatory grief, loss, isolation, exhaustion, and more.
This will not be a cookie-cutter support group but a 3 dimensional program built to offer continual transforming impact connecting to the core of caregiver struggles. The tools used will be education, training and and integrative support methodology offering mental-wellbeing, emotional healing, spiritual care and relational clarity complex issues difficulties caregivers navigate.
COVID-19 Protocols will be in place to protect each member in attendance. Because caregivers are caring for others masks will be required and proof of vaccination status. Caregiver respite for loved ones will not be available for this 5 day program.
DATES:
5 Days: Monday-Friday 9:00am-11:30am Central
11:00-11:30 Snack & Coffee Connect
8/8/22
8/9/22
8/10/22
8/11/22
8/12/22
INTRODUCTORY RATES BELOW [proceeds go to support other caregiver -specific support initiatives with Heart to Soul Ministries and/or HC3D (Helping Caregivers]
Caregiver Discount Cost per attended course: (includes complimentary snack, handouts)
$30/2 hour session (pay per course)
Full Commitment (Caregiver Community Discount includes complimentary snack, handouts and devotional book "Living in God-Centered Peace and Happiness" upon completion of course)
Community Discount
$25/2 hour session | $125 Total ( pay for all 5 sessions up front for August)
Location:
Brown Foundation Center Building: 320 Metairie-Hammond Hwy STE 500, Metairie, LA 70005