Location
Southgate Free Will Baptist Church
14755 Goddard Road
Southgate, MI 48195
The NAVIGATE One Day Conference exists to equip every-day Christians to find their way through challenging topics.
About this event
NAVIGATE One Day Conference
We hope to focus on one topic every Spring. This conference is sponsored by the Christian Education Board of the Michigan Association of Free Will Baptists, but is open to any who are interested.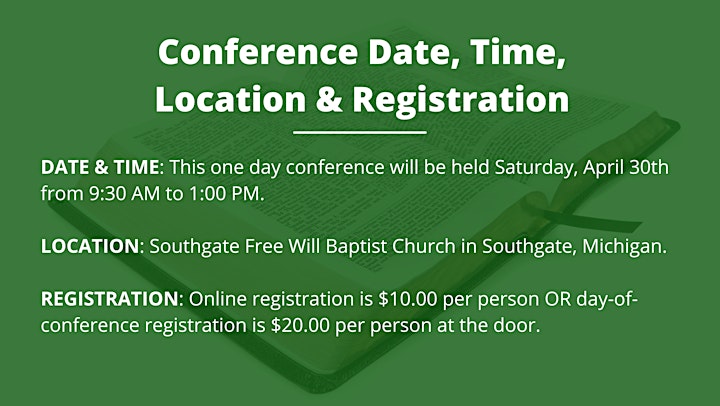 LUNCH & ACCOMMODATIONS
A COVID-friendly grab-bag lunch is included in the cost of registration.
NO CHILDCARE IS PROVIDED AT THIS EVENT
TOPIC OF THE 2022 CONFERENCE
How We Got Our English Bible
Whether or not the Bible can be trusted might be the most important question anyone has ever asked. How can we have confidence in the Bible when it was written so long ago and has so many translations?
We've invited former Greek professor and author Dr. Robert Picirilli to navigate this question for us. He will be teaching three sessions with a Q&A after each session.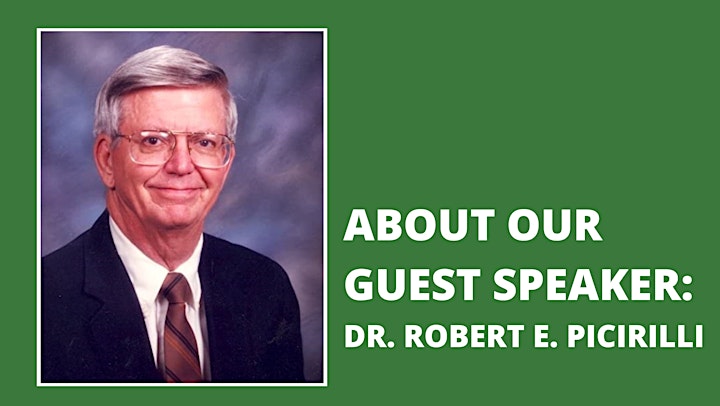 Robert E. Picirilli is an author, retired college professor and historian for the Free Will Baptist denomination. Picirilli received his B.A. from Welch College in 1953. Graduate studies were completed at Bob Jones University where he received the M.A. in theology in 1955 and the Ph.D. in New Testament text in 1963. He was awarded the honorary Doctor of Divinity degree by Bob Jones in 1967.
Dr. Picirilli's teaching career began at Welch College in 1955. He taught New Testament Greek and Interpretation for 47 years. He served as Professor, Registrar, and Academic Dean on the undergraduate level as well as serving as Professor and Academic Dean for the graduate program at his alma mater. Published works from Dr. Picirilli include Book of Galatians; Romans; Paul the Apostle; Grace, Faith, Free Will; Contrasting Views of Salvation: Calvanism and Arminianism; and Discipleship: The Expression of Saving Faith. He not only serves as the General Editor for the Randall House Bible Commentary, but has also authored several of the commentaries including 1 and 2 Peter, 1 and 2 Thessalonians, Ephesians, Philippians, 1 and 2 Corinthians, and Mark.
Dr. Picirilli has been active in the Evangelical Theological Society where he has presented papers and held all of the offices in the Southeastern Section. He is a frequent contributor to denominational publications and professional theological journals.