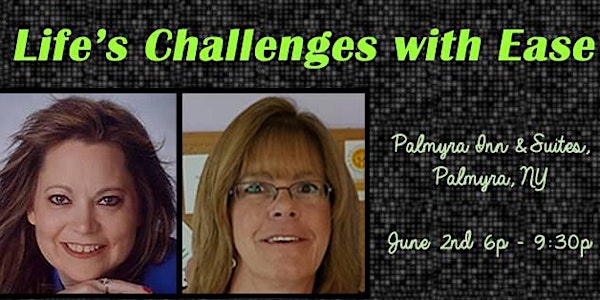 Navigate Life's Challenges with Ease
When and where
Location
Palmyra Inn & Suites 955 Canandaigua Road Palmyra, NY 14522
Description
Nowadays we face each new morning burdened with the stress of life's challenges: pain, injury, and other afflictions, care for loved ones who can no longer navigate on their own, loss of income, loss of life. . . sometimes it feels as though we just get through one thing and something new hits.

If you're seeking refuge from the storm, looking for a means to navigate to calmer waters, come and join Jamie, Kathy, and Trish as they share how they restored peace to their lives and you can too.

Legally blind business woman, Mother of 2 adult boys and wife of 25 years Trish Laube, will be speaking on how you can learn and use the 3 E's of empowerment to rise above and overcome the emotional stress of challenges a
...
t work and at home. Learning how rise above our challenges and controlling our emtional states provide us a life with less stress,anxiety,depression and fears.

Author Jamie Saloff will be demonstrating her method of transforming the language of pain into a message of hope and possibility, as described in her book "The Marvelous Messages Hidden in Your Pain, Injury, and Afflictions." Saloff is also a Lily Dale trained evidential medium.

Kathy Mincer, Home Health Aide and Owner of Believe with Young Living Oils, will be sharing about how essential oils can guide you to greater purpose, wellness, and abundance.
Come out for an enjoyable evening of learning and fun. Walk away with an understanding of how you can live with less pain, stress, anxiety, depression, and fear.
Event cost: FREE Seating is Limited to the first 75