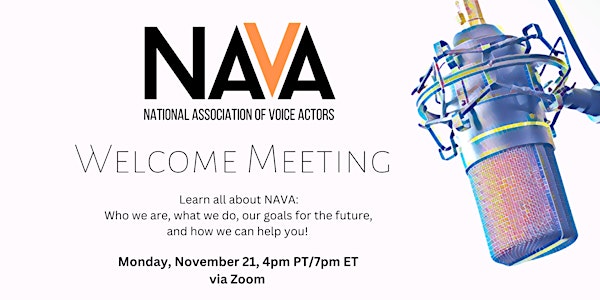 NAVA Welcome Meeting
Join us for a welcome meeting all about the National Association of Voice Actors!
About this event
We're NAVA: The National Association of Voice Actors, and we'd love to tell you all about who we are, the benefits we offer, our goals for the future, and how we can help you!
Join NAVA president Tim Friedlander, vice-president Carin Gilfry, and members of the NAVA Board for a welcome Zoom!
We'll be covering:
-The benefits of membership in NAVA
-The health insurance oprtions NAVA members have access to
-Our Pathways Initiative
-The Brad Venable Fund
-Scholarship Initiatives
-Financial Aid initiatives
-AI and Synthetic Voice education efforts
-NAVA partner perks, benefits, and discounts
-And much more!
All are welcome to join! Bring your questions! We hope to see you there!
**This meeting will be recorded. A replay link will be sent after the event has ended. (Likely the following day)**