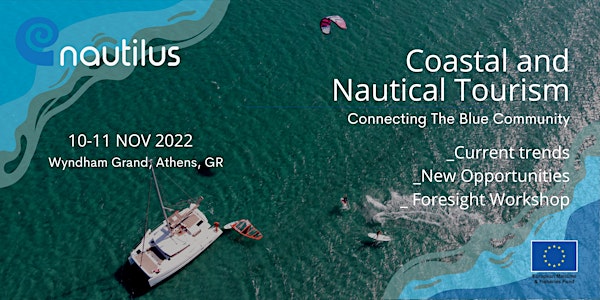 NAUTILUS: Coastal and Nautical Tourism - Connecting the Blue Community
Bringing together the Blue Community to discuss the future of Nautical and Coastal Tourism in Greece and the Mediterranean.
When and where
Location
Wyndham Grand Athens 2 Μεγάλου Αλεξάνδρου 104 37 Αθήνα Greece
About this event

_A knowledge-tranfer session with presentations from projects participating in the European Maritime and Fisheries Fund (EMFF) Blue Careers and other funding schemes.
_An ideal opportunity to meet and network with organisations within the Coastal and Nautical Tourism sector in Greece.
_A closer look into the new EU funding opportunities for the marine sector.
Stay tuned for updates in the Agenda!
Agenda [Nov 10]
09:30 - 10:00 - Registrations
10:00 - 10:10 | Introductions - Welcome Note // Odysseas SPYROGLOU, NAUTILUS Project Coordinator
10:10 - 10:30 | NAUTILUS- An Education & Certification Framework for Water Sports Tourism Professionals // Dr. Fani GALATSOPOULOU, Sustainable Tourism, Communication, and Travel Media Researcher & Educator, School of Journalism and Mass Communications, AUTh (Aristotle University of Thessaloniki)
10:30 - 10:50 | Water Sports Certified Quality - A tool for distinction // Konstantinos MAVROPOULOS, Head of R&D Division of the Certification Body TÜV AUSTRIA, Hellas
10:50 - 11:10 | Diving Activities - Training Challenges: from Documentation to Promotion of Underwater Natural & Cultural Heritage // Dr. Kimon PAPADIMITRIOU, Ing Rural and Surveying Engineering/Scuba Instructor, Laboratory Teaching Staff at AUTh
11:10 - 11:30 | Gaining Experience from the Sea of Experience: innovative training & mentoring tools for the maritime sector // Nikolaos P. VENTIKOS, Associate Professor, NTUA & Alexandros RAMMOS, Research Engineer, National Technical University of Athens
11:30 - 11:50 | Xplore Blue. A phygital platform to transform any boat and any coastal location into an experiential Oceanographic station leveraging citizen science and enhancing the Blue economy offering // Yannis SOTIRAKOS, EYZHN LIFE CEO
11:50 - 12:10 | Coffee Break
12:10 – 12:30 | Challenges of data-driven strategic planning in tourism: a case from the Black Sea area // Dr. Hrvoje RATKAJEC, R&D Project Manager, Arctur d.o.o. [Online]
12:30 - 12:50 | Aegean Dive: A unique travel adventure journey into the deep blue // Petros Adamantidis, Managing Partner VGR network , Co- Producer eλcproductions & Nikos Ververidis, founder of eλcproductions and elculture.gr
12:50-13:10 | The cruise sector: the sustainability challenge // Dr Ioannis Pappas, CEO, Green Evolution SA & Dr Marika Marika Mazzi Boém, EBA, Co-founder, BO, CFO at X23 Srl
13:10 – 14:00 | New calls, New Opportunities - "Blue careers for a sustainable blue economy" and "Regional flagships projects supporting sustainable blue economy in EU sea basins" // Sonia KARASAVVIDOU, CINEA, EC
14:00 - 15:00 | Light Lunch
15:00 – 16:00 | Networking. Bilateral meetings

_An interactive co-design workshop that will try to explore the options for the future of Coastal and Nautical Tourism in 2040 in Europe & Greece and identify potential scenarios and strategies for its optimal implementation.
_The co-design workshop will be led by Dr. Epaminondas Christophilopoulos, Chief Scientific Advisor, Special Secretariat for Strategic Foresight, Presidency of the Greek Government and UNESCO Chair on Futures Research.
IMPORTANT NOTE:
The working language of the workshop will be Greek.
It is not possible to participate to the event online. You can participate only in person.
Agenda [Nov 11]
09:30 - 10:00 | Registrations
10:00 - 10:30 | Introduction to Strategic Foresight & Futures Lab // Dr. Ep. Christophilopoulos
10:30 - 11:20 | Focal Question, Scanning Present and Past - Define the system actors, Discuss the past // Presentation & Moderated Group Work
11:20 - 12:00 | Megatrends, Weak Signals, Black Swans // Presentation & Moderated Group Work
12:00 - 12:20 | Coffee Break
12:20 - 13:00 | The Thing from the Future game // Serious Game & Group Work
13:00 - 14:00 | Scenario Building - Development of alternative future scenarios, Strategy ideas // Presentation & Moderated Group Work
14:00 - 15:00 | Lunch Break
15:00 - 15:30 | Live-in Scenarios
15:30 - 16:00 | Presentations of Scenarios & Dotmocracy
*Please note that for the participation in the Foresight Workshop on Day 2 you can register with an 'expression of interest ticket' as the workshop is for limited participants. We will notify you further with a confirmation of attendance email.