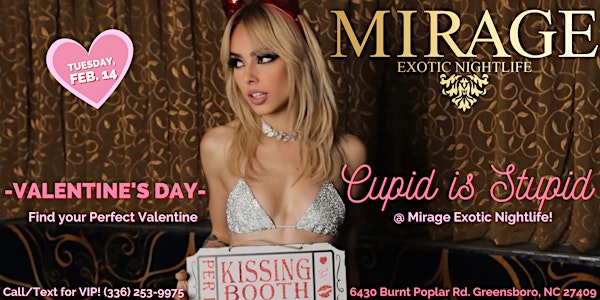 Naughty Valentine Date Night @Mirage Exotic Nightlife on February 14th!!
Will you be our Naughty Valentine? Sexy Valentines & FREE Admission for Couples @ Mirage Exotic Nightlife's Naughty Valentine Date Night!
When and where
Location
Mirage Exotic Nightlife 6430 Burnt Poplar Rd Greensboro, NC 27409
About this event
Whether your heart is broken or bursting with love, Mirage Exotic Nightlife is the place to be this Valentine's Day!!
On February 14th, we our hosting our annual Naughty Valentine Date Night with FREE ADMISSION for couples!! And of course...plenty of sexy valentines to choose from *wink*
Whether you think cupid is stupid or the angel of love, the lovely ladies of Mirage Exotic Nightlife are ready to celebrate hearts in every condition!!
Coupled up or single and ready to mingle, we want YOU to be our valentine all night long with the most tantalizing ladies in the Triad!!!
No matter if you like sweet or spicy, Naughty Valentine Date Night is guranteed to top off your Valentine's Day with just right the amount of memorable flavor!!
Call (336) 253-9975 for more information on how you can reserve YOU and all your favorite sexy valentines an EXCLUSIVE VIP Bottle Service Booth today!!
Stop scrolling through all the couples posts, and make your own heart day party right here at Mirage Exotic Nightlife!!
**ACT NOW and get one of our limited availability FREE admission tickets**