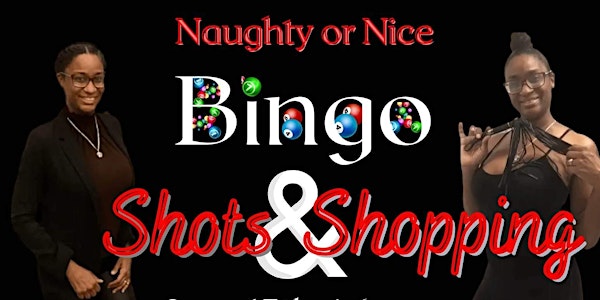 Naughty or Nice Bingo Shots and Shopping!
Enjoy a fun filled night of bingo, food, drinks, friends and shopping!!
Date and time
Starts on Saturday, June 17 · 6pm EDT
Location
The Space at Norches Provided to paid attendees Richmond, VA 23235
About this event
We're doing this thing Gemini style! That means DOUBLE THE PRIZES!!
It's time to play the best game of bingo that you've ever played! This bingo is a little different because you not only win some great prizes like electronics, BK prize packs, giftcards, and more, you also get to shop, dance and just enjoy each other's company. Everybody leaves with a new friend or two and a couple new moves. This time I've even added a fun twist.....SHOTS!! Yes guys, every game you lose you'll be taking a shot. Don't panic, there's plenty of juice to go around!! 
You can come just to shop and choose to jump in on a game at anytime. If you've never enjoyed a Coach Kay event, you're definitely in for a treat and if you have then you already know what's going down. We laugh, we learn and we never leave empty handed. This is not your grandma and grandpa's bingo but they sure are invited!!
*No cash prizes and you much be 21+ to play
About the organizer
Kanya Ford, best known as Coach Kay, is the owner of Love & Intimacy 101, LLC, an all-inclusive life, love, and intimacy coaching practice based out of Richmond, VA. Coach Kay is nothing short of the definition of a go getter! She firmly believes that it is not about where you begin in life, but where you are that matters. Coach Kay earned her MS in human resources management and spent over 15 years guiding people through challenging life and career obstacles. June 2018, Coach Kay completed the necessary courses to become certified as a clinical sexologist & master sexologist! This added accomplishment allowed her to take the passion for helping people to new heights.
Being a life coach and certified sexologist allows Coach Kay the opportunity to use her personal experiences, coupled with her formal education, to guide individuals and couples on a positive intimacy and sex positive journey. Each event that Coach Kay has cultivated has meaningful purpose that leave participants wanting more! Oh, and she also is a Bedroom Kandi consultant which adds a little spice onto the knowledge she shares.
*All events are LGBTQ+ friendly