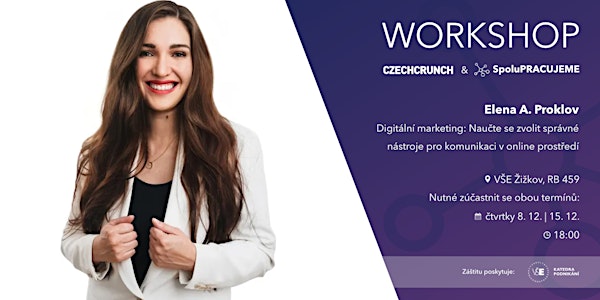 Naučte se zvolit správné nástroje pro komunikaci v online prostředí
Workshop je přístupný pouze pro studenty (jakékoli univerzity).
When and where
Location
Vysoká škola ekonomická v Praze 1938/4 náměstí Winstona Churchilla 130 67 Praha 3 Czechia
About this event
Jistě víte, že digitální marketing je dílčí složkou marketingové strategie firmy. Nicméně každý z nás má také i svou digitální stopu. Na tomto workshopu se naučíte, jak nastavit komunikační strategii podle STDC frameworku a jak zvolit správné nástroje digitálního marketingu a to pro osobní značku i podnikání.
Během praktické části workshopu si zkusíte sestavit plán nejefektivnějšího využití finančních prostředků konkrétního subjektu (restaurace, e-shopu...) k dosažení podnikatelských cílů.
Pro které studenty je tento workshop určený?
zakladatele začínajících podnikatelských projektů, kteří chtějí využít nástroje online marketingu na maximum
nadšence do marketingu, kteří vidí svou budoucnost v digitálu
budoucí freelancery, kteří spravují nebo chtějí spravovat komunikaci jiným projektům na volné noze
Co vám workshop přinese?
pochopíte celou zákaznickou cestu a jak cílit a zvolit jednotlivé nástroje
naučíte se, jak najít cílovou skupinu a neutratit za online marketing nesmyslné částky
zpětnou vazbu na konkrétní výstup vaší práce a možnost konzultovat svůj projekt
O lektorce workshopu:
Elena působí více než 10 let na manažerských pozicích v oblasti provozu, obchodu a marketingu
V průběhu své praxe nabrala zkušenosti v korporátech, startupech i reklamních agenturách
Má zkušenosti i z vlastního podnikání, které se zaměřovalo právě na online marketing
Je mentorka a lektorka v programech od #Holkyzmarketingu, CzechCrunch a Confused.cz
Pokud jste zmeškali první lekci 24. 11., vůbec nevadí. Je však nutné se dostavit na oba dva zbylé termíny.
Areál VŠE Žižkov, místnost RB 459.
Na workshop je nutné se registrovat zde na Eventbrite.