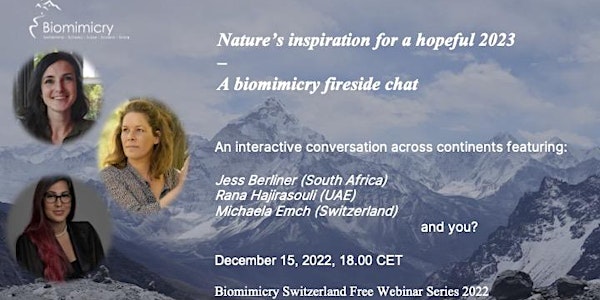 Nature's inspiration for a hopeful 2023 - A biomimicry fireside chat
An interactive conversation across continents to harness nature's genius for a hopeful start in 2023.
About this event
Featuring biomimics
- Jess Berliner (South Africa)
- Rana Hajirasouli (UAE)
- Michaela Emch (Switzerland).
We will share our favorite organisms, processes, and systems in nature and learn from them how to feel and project hope for a new year in an uncertain environment.
Learn more about our speakers:
Jess Berliner:
For over a decade, Jess worked closely with Claire Janisch and Biomimicry South Africa and assisted in building up the biomimicry community in South Africa through lecturing, running local workshops, and hosting meetups. In 2020, she co-founded Learn Biomimicry, so that the online courses she had co-designed with Claire could be accessible to the world! After working as Managing Director of Learn Biomimicry for two years, Jess pivoted to the role of Product Director and Programme Facilitator – allowing her to return to the aspects of the business that she loves the most. Jess has presented on the topic of biomimicry at universities, corporate companies, and conferences, and loves the excitement that this powerful practice elicits across diverse professions. Drawing motivation from her past career in retail and advertising, she is determined to improve how we design our products and systems and believes that biomimicry provides both the vision and the means to do so. Jess is also a total nature nerd and is easily distracted by intriguing biological discoveries.
Rana Hajirasouli:
Rana has 10+ years of experience working for a litigation outsourcing company, a marine conservation research unit, and the petrochemical industry. Rana holds an LLM and M.Phil from Trinity College Dublin and is GRI/GHG/SEA/Biomimicry Prac. Certified. She is currently working towards a Ph.D. at the University of Cambridge in Sustainability Leadership. More recently, she has founded The Surpluss, a B2B climate tech that aims to answer the challenges of businesses with resource difficulties by drawing inspiration from biomimicry.
Michaela Emch:
Michaela is a communications and marketing specialist, translator, cultural mediator, biomimicry practitioner, safari guide, naturalist, and passionate biologist who seeks connections where people have not yet made them. Her Master's degree in International Relations and the ability to abstract acquired during her MBA allow her to master the multicultural and interdisciplinary impacts of communication in multiple fields of application. Author of the book "FROM NATURE'S MOUTH - The Handbook for Bioinfused Human Communication (Inspired by Biomimicry)".