We are back this year for an in person Native Landscaping Conference. Join the Lake to Prairie Chapter for this very special event.
About this event
Join the Lake to Prairie Chapter for this very special event. This year we welcome back our good friend and outstanding author and speaker, Doug Tallamy. He will inspire us with not one but two presentations covering his latest books, Nature's Best Hope and The Nature of Oaks.
Doug Tallamy will first speak about his recent book, Nature's Best Hope.
Nature's Best Hope - Recent headlines about global insect declines, the impending extinction of one million species worldwide, and three billion fewer birds in North America are a bleak reality check about how ineffective our current landscape designs have been at sustaining the plants and animals that sustain us. Such losses are not an option if we wish to continue our current standard of living on Planet Earth. The good news is that none of this is inevitable. Tallamy will discuss simple steps that each of us can- and must- take to reverse declining biodiversity and will explain why we, ourselves, are nature's best hope.
After the break Doug Tallamy will speak about his latest book, The Nature of Oaks.
Let It Be An Oak - Once we have decided to restore the ecological integrity of our suburban neighborhoods, we need to decide what plants to add to our properties. Oaks are superior trees for suburban restoration projects because of their many ecological and aesthetic attributes. Doug Tallamy will compare oak species to other popular shade trees in terms of their ability to support animal diversity, protect watersheds, sequester carbon dioxide, and restore lost plant communities.
Doors open: 8:00am
9:00 am - Welcome and Introduction
9:15 am - Doug Tallamy - Nature's Best Hope
10:15 am- Break, snacks, coffee, water, exhibits, networking, book sales
10:45am - Doug Tallamy - Let It Be An Oak
11:45am - Closing comments, questions and answers
Doug Tallamy received his BS in Biology from Allegheny College in 1973, his MS in Entomology from Rutgers University in 1976, his PhD in Entomology from the University of Maryland in 1980, and his post-doctoral training at the University of Iowa in 1981. He joined the faculty of Entomology and Wildlife Ecology at the University of Delaware in 1981 where he is now completing his 31st year. Doug currently serves as Chair of the Department and is also director of the Center for Managed Ecosystems.
Over the years Doug's research has focused on various questions in behavioral ecology including the evolution of insect parental care, sexual selection, and plant/insect interactions. Chief among his research goals is to better understand the many ways insects interact with plants and how such interactions determine the diversity of animal communities. He has authored 78 research articles and has taught Insect Taxonomy, Behavioral Ecology, and the Conservation of Tropical Biodiversity.
Doug's book "Bringing Nature Home; How Native Plants Sustain Wildlife in Our Gardens" was published by Timber Press in 2007 and was awarded the 2008 silver medal by the Garden Writer's Association. Bringing Nature Home has stimulated a national discussion about the need to share our living and working spaces with the biodiversity that runs our ecosystems. To this end Doug gives 80-100 nation-wide talks per year describing the essential role that insects and the native plants that support them play in ecosystem function.
If you are a student or prefer to register for this event by mail please use this
Organizer of Nature's Best Hope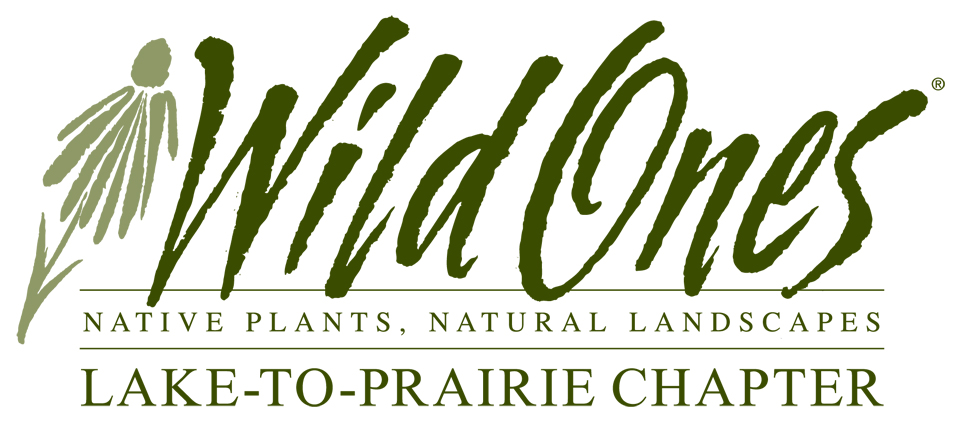 Wild Ones: Native Plants, Natural Landscapes promotes environmentally sound landscaping practices to preserve biodiversity through the preservation, restoration and establishment of native plant communities.  Wild Ones is a national, not-for-profit environmental education and advocacy organization founded in 1979.
Lake to Prairie Chapter Information
www.laketoprairie.wildones.org
847-546-4198
sanran2@aol.com
Wild Ones National
www.wildones.org
Find us on Facebook
www.facebook.com/LAKETOPRAIRIEWILDONES.ORG
**There is additional free parking at the Metra Station just east of the venue with a short path to venue**