Sales Have Ended
Ticket sales have ended
Thank you for registering. Before your program, you will be emailed questions about your preferences for your experience and the link so that each member of your group can complete a waiver ahead of time
Sales Have Ended
Ticket sales have ended
Thank you for registering. Before your program, you will be emailed questions about your preferences for your experience and the link so that each member of your group can complete a waiver ahead of time
Take a private, guided hike through the Marin Headlands with a naturalist. Hikes will be customized by your chosen theme and interests.
About this event
Bring your family or pod of up to 15 people on a hike with a naturalist dedicated to your group to explore the Marin Headlands. While on trail, your naturalist will lead you on a custom experience through the ecosystem–matching the hike's theme and your preferences. Groups will play games and participate in activities to learn about the Headlands. These hikes are fun for the whole family! Kids and kids-at-heart of any age are welcome to join us and should be prepared to walk (or be carried) the whole way as these hikes aren't suitable for strollers.
*You only need to purchase 1 ticket for your group of up to 15 people*
NatureBridge believes that everyone has a right to learn, play and grow in the outdoors. We are committed to ensuring equitable access to our programs for families who need financial assistance. If your family needs support to attend our program please email us at familyprograms@naturebridge.org.
Health and Safety
NatureBridge has 50 years of experience managing risk in the outdoors. Our staff are highly experienced educators and naturalists who are certified either in Wilderness First Aid or as Wilderness First Responders. To help protect you and your family we have the following measures in place.
Each family or pod will remain separate from other groups.
The program will take place entirely outside unless your group chooses to visit one of our labs that matches program themes. Any indoor spaces that are used will require face coverings to be worn at all times and will be cleaned between uses.
All naturalists will carry a fully stocked first aid kit, hand sanitizer and radio along with any precautionary items necessary for specific themes.
THEMES:
Headland's Habitat
Explore the ecosystem–discover what plants and animals make their home in the Headlands. While out hiking, your group might learn to identify edible and medicinal plants, animals and their scat, raptors in migration or other fun surprises you find on trail. The group will also play games and do activities to deepen the exploration of the wonder and science of nature. Groups will have the option of visiting our Skins and Skulls lab to see taxidermied animals up close and get hands-on with pelts, bones, antlers and feathers.
Ocean in Motion
Calling all ocean lovers and aspiring marine biologists! Spend your day hiking along the coast, keeping an eye on the horizon for any signs of a spout. The fall is whale migration season and with a little patience, careful eyesight and a bit of luck, you might catch a glimpse of them passing by–or perhaps our local pod of dolphins riding the waves or a few harbor seals sunning themselves on the rocks. The group will also take breaks and play games and do activities to deepen the exploration of the wonder and science of nature. Groups will have the option of visiting our Plankton Lab to see the microscopic creatures that fill the ocean.
Geology Rocks
Join us on a hike to learn about the fascinating journey of the rocks that comprise the Headlands and the reasons they're shiny and colorful. Along the way, you'll learn about what makes Rodeo Beach a great spot for surfing and why it's safer to get in the water at South Beach. The group will also take breaks to play games and do activities to deepen the exploration of the wonder and science of nature. From the basalt the makes up Point Bonita, to the Carnelians on the rainbow sand beach to the many layers of the Radiolarian Chert, you'll leave this hike saying, "the Headlands totally rocks!"
Challenge Hike
This epic hike is available only for a full-day experience. Push your limits to explore the highest peaks of the Headlands: either Hill 88 or Hawk Hill. This full-day hike is perfect for moderately experienced hikers who want to see all the Headlands have to offer. On the way up, play fun trail games, learn Headlands fun facts and encourage your group through the ups and downs of reaching the summit. At the peak, you'll take in the view (or admire the fog!), eat lunch and relish in your accomplishment. On the way down, enjoy some quiet time with a spacewalk, nature nap or story.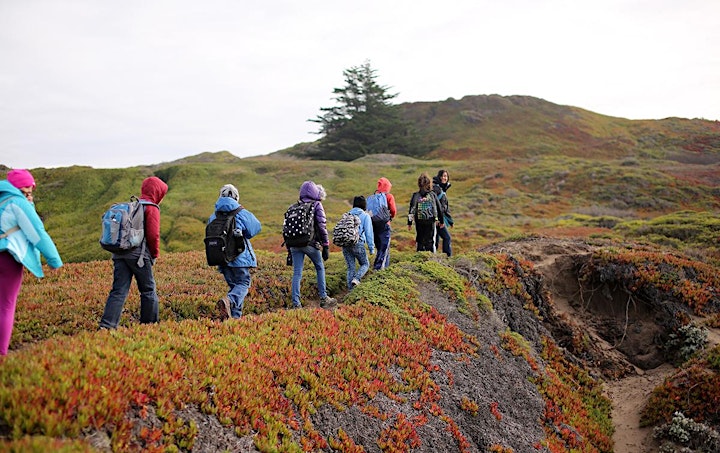 Organizer of NatureBridge Marin Headlands Family Hikes