Description
Explore and document the living world through a nature journal!
This workshop focuses on seeing - which is more than simply looking - and creating a record of what is truly experienced in words, drawings and diagrams.
Watercolor artist and nature author Walt Davis is your guide through this class, where you'll explore the rich tradition of nature journaling practiced by John Muir, George Bird Grinnell, Thomas Nuttall and Earnest Thompson Seaton. We'll thoroughly discuss the supplies needed, and you'll learn key observational techniques and methods for capturing simple images. You'll practice making records of actual encounters with nature, so that what you learn in this extensive workshop can easily be applied to gardening, travel journals, and illustrated diaries.
Session 1: 10:00-12:00 drawing with pencil and sketchbook

Lunch: 12:00-1:00 our Café at NHG is open

Session 2: 1:00-5:00 adding pen and ink and watercolor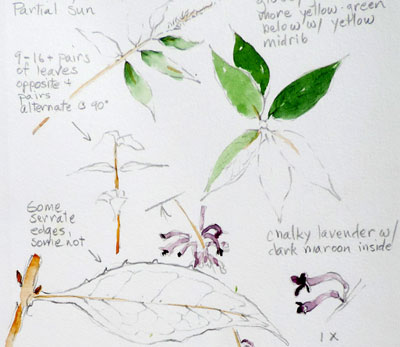 For beginners new to art or the watercolor medium aged 15 and up, with no prior experience in drawing or skills necessary. PLEASE NOTE: all supplies are NOT included. Please purchase your supplies (from the suggested basic list below) in advance of the workshop.
Supply List:
Pencil: #2 or equivalent; Pentel P209, with 0.9 mm lead

Sketchbook: recommended is spiral bound Canson, Mix Media, XL sketch book with 60 sheets of 98 lb. paper.

Pen: Faber-Castel's or PITT Artist Pen, dark sepia ink.

Watercolor set: basic and inexpensive

Watercolor brush: #6 or 8
The total is approximately $30. Asel Art Supply offers a student discount of 10%. Please print your Eventbrite ticket to receive your discount. All other supplies are included. Please arrive early so that you may be prepared to get creative!
---
Walt Davis is a signature member of the Southwestern and American Watercolor Societies. As exhibits curator for the Dallas Museum of Natural History (now part of the Perot) he traveled across Texas collecting material and images for wildlife dioramas.
Field trips from the Big Thicket to Big Bend, and from Padre Island to the Red River provided Davis with a unique point of view from which to interpret the Texas landscape and its inhabitants. To see this, he says "the artist must choreograph a delicate dance between art and nature coaxing the truth of one to illuminate the truth of the other."
Walt and his wife Isabel are the authors of Exploring the Edges of Texas, a personalized, artist's tour of a 4,000 mile journey around the border of the Lone Star State, published by Texas A&M University Press. It is available for purchase at North Haven Gardens.