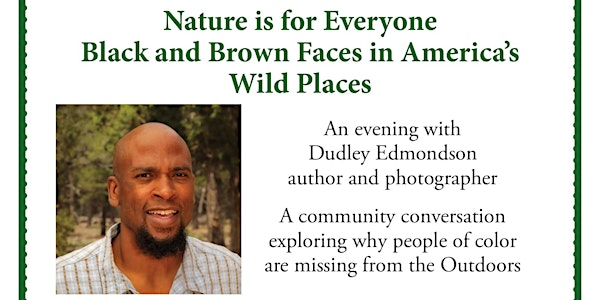 Nature is for Everyone - Black and Brown Faces in America's Wild Places
Location
Northern Virginia Community College - Woodbridge Campus
2645 College Drive
Lakeside Theater
Woodbridge, VA 22191
Description
Nature is for Everyone: Black and Brown Faces in America's Wild Places
An evening with Dudley Edmondson, author and photographer

We're so disappointed to share that our March 21 hike and evening event, Black and Brown Faces in America's Wild Places with Dudley Edmondson must be rescheduled due to concerns about the Coronavirus.

However, we are planning to reschedule the event and looking at a Saturday in mid-June, if conditions allow. We will let you know as soon as the new date is confirmed and hope you'll be able to join us then!
If you'd like to be added to our newletter list, please send an email to alliance@pwconserve.org.
---------------------------------------------------------------------------------------
Join us for day of education and inclusiveness with author, photographer, and outdoor advocate Dudley Edmondson. Author of Nature is for Everyone: Black and Brown Faces in America's Wild Places, Mr. Edmondson's public presentations promote unspoiled wild places and share his quest to make green spaces more diverse.
We will kick-start the day with a morning walk led by Mr. Edmondson at Prince William Forest Park. Regrouping later in the evening for a reception/social, with heavy appetizers and non-alcoholic beverages, and a book signing provides opportunities to extend the community dialogue, encourage networking, and give people a chance to chat with each other and our main speaker, Mr. Edmondson.
Saturday, March 21, 2020

10:00 am to Noon Tour Prince William Forest Park
18170 Park Entrance Road, Triangle, VA 22172 at the Pine Grove Picnic Area


6:00 pm walk at, 6:30 pm Reception, 7:30 pm talk with Q&A
Northern Virginia Community College,Lakeside Theater, 2645 College Drive, Woodbridge, VA 22191... Free parking in Lot B.
Contact PWCA at alliance@pwconserve.org or 703.499.4954.
An evening with Dudley Edmondson, author and photographer
A community conversation, exploring why people of color are missing from the Outdoors