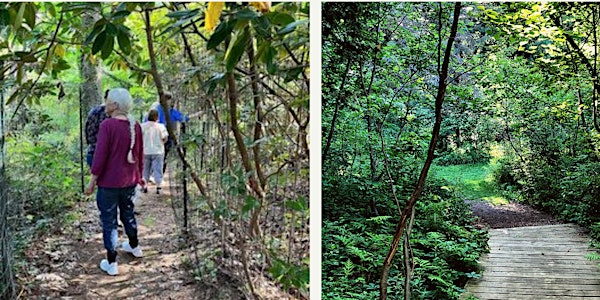 Nature as Medicine
Exploring the Connection between mental health and the outdoors.
By The Pine Hollow Arboretum
Date and time
Sunday, June 18 · 6 - 8pm EDT
Location
The Pine Hollow Arboretum 34 Pine Hollow Road Slingerlands, NY 12159
Refund Policy
Contact the organizer to request a refund.
About this event
Did you know that spending time in nature can have a positive impact on your mental health? Studies have shown that nature can help reduce stress and anxiety, improve mood, increase focus and concentration, and even boost overall feelings of happiness.
At this workshop you'll have the opportunity to learn more about the ways in which nature can help improve mental health. Experienced facilitators will guide you through a series of activities designed to help you connect with the natural world and to its healing power.
By the end of the workshop, you'll have a deeper understanding of the ways in which nature can play a key role in boosting your mental health and well-being. You'll leave feeling refreshed rejuvenated and with a renewed appreciation for the power of the natural world.
Meet your Guides:
Amy Papandrea: Amy is the founder of Stone Lotus Health Coaching. She has a deep passion for helping individuals combat chronic stress. As a certified health and wellness coach, yoga teacher, and social worker with a Masters in Public Administration from Rockefeller College, Amy specializes in providing yoga, coaching, and workshops that promote healing and wellness.
Sandy Wilson: Sandra is the owner of Spirit of Dragonflies, LLC and is a certified Kripalu Mindfulness Outdoor/Forest Bathing Guide, Certified Life Coach, End of Life Doula, DOTERRA Wellness Advocate and has ten years of experience as a Therapeutic Touch Practitioner. Her goal is to guide children and adults in nature where they can find a sense of peace while becoming more aware of their senses, and learn to live mindfully.
About the organizer
The Pine Hollow Arboretum's mission is to preserve, manage and enhance native and introduced species of trees, shrubs and other plants in a natural and aesthetic environment.