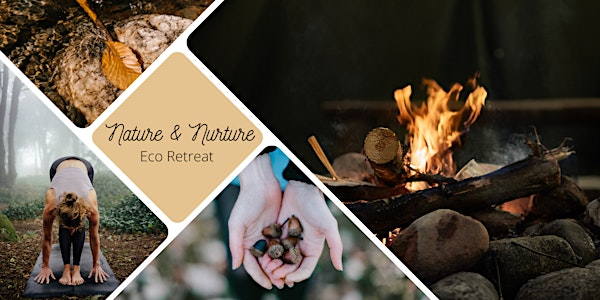 Nature and Nurture Eco Retreat
This is a 3 night eco retreat in the NC mountains that includes yoga, meditation, therapeutic nature based activities, hiking, and all meals
By Jessica King, LCSW and Michelle Walker, LCSWA
Date and time
November 9 · 4pm - November 12 · 12pm EST
Location
Indigo Nature Retreat 1037 Newberry Creek Road Old Fort, NC 28762
About this event
2 days 20 hours

Mobile eTicket
Nurture your whole Self at our eco retreat in the NC mountains. Life's daily stressors easily distract us from our true Self. Disconnection from Self causes mental, emotional, and physical distress in bodies. This distress leaves us disconnected from playfulness and joy, as well as lacking the ability to find stillness in the present moment. Through yoga, meditation, breath work, and nature based activities, this eco retreat will help release the protective layers that block you from your true Self. You will have the opportunity to go inward to connect deeply with yourself, while also connecting with Mother Nature and other like-minded women on the same healing journey.
This retreat is set at the beautiful Indigo Nature Retreat in the heart of Pisgah National Forest, and includes daily yoga, therapeutic nature based activities, and nourishing meals prepared by a professional chef. Our intention as retreat guides is to cultivate stillness, playfulness, and self-compassion in a safe space for healing and growth. Let's go play in nature together!
WHAT IS INCLUDED:
3 nights lodging at Indigo Nature Retreat
All meals from Thursday evening to Sunday morning (1 heavy hor d'oeuvres meal, 3 breakfasts, 2 lunches, and 2 dinners) prepared by a professional chef
Use of full kitchen to store or prepare any food outside of chef prepared meals
Daily yoga, meditation, and breath work
Daily guided hiking and therapeutic nature based activities
Morning and evening intention setting meetings
Evening fire pit circles
Camping chairs and yoga mats are available on site
Use the link above to view pictures of the lodging options. There are 3 different options:
Tiny Cabins - These are 2 bed cabins with a kitchenette that share a community bathhouse and kitchen space that is nearby all the tiny cabins
2 person Creekside Cabin - There are 2 of these available. This is a cabin with a loft that has 2 beds and it's own bathroom and kitchenette
4 person Creekside Cabin - 1 of these are available and it is a 2 bedroom, 4 bed cabin with it's own bathroom and kitchen
ITINERARY (subject to change as needed):
Thursday
Arrival after 4 pm
6 - 7 pm heavy hor d'oeuvres and connecting with group
7:30 pm Welcome and Intention Setting by the fire pit
8 - 10 pm free time
10 pm quiet time
Friday
8 am Morning Gathering
8:30 - 9:30 am Breakfast
10 am - 12 pm Yoga/Meditation/Breathwork
12 - 2 pm Lunch and Free Time
2 - 4 pm Hiking and Nature Based Activities
4 - 6 pm Free Time
6 - 7 pm Dinner
7:30 Closing Gathering by the Fire Pit
8 - 10 free time
10 pm quiet time
Saturday
8 am Morning Gathering
8:30 - 9:30 am Breakfast
10 am - 12 pm Hiking and Nature Based Activities
12 - 2 pm Lunch and Free Time
2 - 4 pm Yoga/Meditation/Breathwork
4 - 6 pm Free Time
6 - 7 pm Dinner
7:30 Closing Gathering by the Fire Pit
8 - 10 free time
10 pm quiet time
Sunday
8:30 - 9:30 am Breakfast
9:30 am Closing ceremony
Free time until check out (by 12 pm at least)
MEET YOUR GUIDES:
Jessica King, LCSW, E-RYT
Jessica came to yoga over 20 years ago as an alternative way to "work out". Immediately she felt the the mind-body connection, but it took her many years of exploring and practicing to understand yoga was more of a "working in" for her. Jessica expanded her practice by taking a 200 hour teaching training with Dolly Stavros of then Red Stone Yoga out of Charlotte NC. Jessica's training and style is in vinyasa yoga, linking breath to movement, and exploring the uniqueness of each practice day to day. Jessica has had further training in special populations including kids yoga, prenatal yoga, yoga for athletes, and trauma-informed yoga. Jessica teaches from a psycho educational philosophy of "when we know better, we do better" which makes her classes informative and experiential.
Jessica has taught in various settings including private yoga in homes, gyms, yoga studios, retreat centers, and she owned a yoga studio for several years. Jessica leads workshops, yoga teacher trainings, and speaks to businesses/corporations on utilization of yoga, meditation, and mindfulness as a way to cope with chronic stress and burnout.
Jessica's yoga teaching is heavily influenced by her career as a licensed clinical social worker. She looks at the whole person, their environment, their support system, and incorporates all of those systems to help people recognize their full potential. Jessica believes people are resilient and they can transform after challenges and that mindfulness practices help the transformation process. Jessica is currently completing her certification in Somatic Experiencing and infuses mindful somatic language, as well as the inner child work of Internal Family Systems into her teaching. All these aspects will be part of the retreat experience in her yoga and meditation classes.
Michelle Welker, LCSWA
Michelle owns a nature-based therapy practice in Wilmington, North Carolina. Her work provides clients with mental health services through a nature focused lens. Michelle has always been an "outdoorsy" type; growing up in Florida and spending much of her childhood barefoot in the sun. After beginning her career in the mental health field she began to notice a large number of providers experiencing burnout. Facing this hurdle herself she decided to go back to her roots in order to stay afloat. Michelle attended Somatic Wilderness Therapy Institute in the Summer of 2022 in order to learn how to blend her passion for nature with the work she was already doing. This training helped to open up new ideas around nature and its role in our lives.
Michelle believes that nature is the ultimate teacher and the more time we are able to spend mindfully in the outdoors the more we can learn self compassion and connect with our truest selves. Michelle will be teaching mindful interaction with our natural environment, incorporating reflection, and acceptance for an increased experience of peace. Her goal is that you will leave the retreat with a newfound closeness with mother nature; one that you can continue to nurture throughout your life.
MEET YOUR PERSONAL CHEF:
Allison Shivone
Chef Alli was born on the East Coast, where, as a young girl she grew up with a passion for the ocean, adventure, and FOOD passed on by her father. She began cooking at a young age, preparing meals for her family of five, and continues to create beautiful dishes with love and artistry. For the past 7 years, Alli has lived in the Virgin Islands, with her husband, where she was a Chef on a Private Yacht, and has obtained her Certificate in Culinary Arts from Ashburton Academy in England. With family members from all over the world, she considers her style of cooking a fusion from Spanish-Caribbean-Southern and always uses the most important ingredient, love!
Alli loves to bring a fusion of flavors, learned throughout the years of travel to your table.
INVESTMENT:
Double Occupancy Tiny Cabin: $1100
Double Occupancy Creekside Cabin: $1275
4 person Creekside Cabin: $1450
Single Occupancy Tiny Cabin: $1825
Retreat fee with no lodging: $695
**To avoid processing fees, please contact jessica@stillpointcounselingandwellness.com for more information.