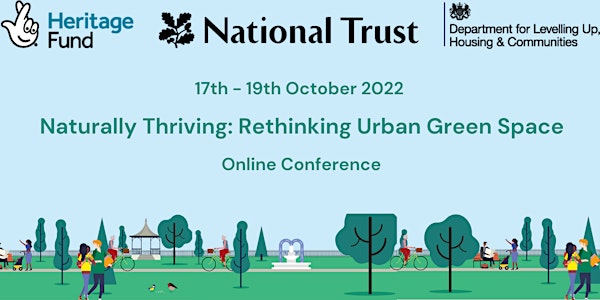 Naturally Thriving: Rethinking Urban Green Space
Attendees have now received an email with the login link. We're looking forward to seeing you there!
About this event
Attendees have now received an email with the login link. We're looking forward to seeing you there! For any questions, please contact info@futureparks.org.uk
You can see the schedule at the end of this page or at this link: https://bit.ly/3rZWLw0
Green infrastructure can help cities and towns address the big challenges facing urban areas in the 21st century. Thriving urban green space can help places adapt to climate change, create new jobs, attract investment and improve the health of local communities.
The Future Parks programme has spent three years working with towns and cities to design and test how to transform urban green space. Now we're ready to share what we've learned, at our online conference, 17 to 19 October 2022.
You'll hear stories of transformational change from senior leaders and politicians in the UK and beyond, then roll your sleeves up for practical sessions led by those at the forefront of innovation in UK local government.
Come away from the conference inspired by people and green spaces across the country (and beyond) and with an understanding of what steps you can take to make real change in your local area.
Day one of the conference will bring together leading voices from cities and towns across the UK and beyond.
The focus will be on ambitious change and real success stories. Keynote speakers and panel discussions will showcase how Future Parks projects are using green and blue infrastructure to support thriving communities and economies. Hear stories about how international cities are using green space to help define their future. Experts will discuss the economics of urban green space, and explore the importance of collaboration in creating a greener future.
Days two and three will feature a series of themed half-days full of engaging discussions and activities on the following topics:
DAY 2 - Tuesday 18 October
AM: Health and Wellbeing
PM: Urban Nature and Forests
DAY 3 - Wednesday 19 October
AM: Community Participation and Activation
PM: Funding, Finance and New Business Models
See below for the full session programme so far.
Join us for one or several sessions. In each, you will hear case studies, learnings and practical advice from members of the Future Parks cohort and other leading voices in their fields.
Alongside workshops and panels, we are curating a resource library that will be accessible to attendees during and after the conference. You will be able to explore the work of the current FPA cohort, join interactive workspaces, and access a range of media.
You'll leave with inspiration and know-how to help you put nature-based solutions at the heart of policy and placemaking in your town or city.
-
Programme
Please note timings subject to some change
DAY 1 - Monday 17 October
AM theme: Leading for Change
9:30 - Arrivals and welcome to the conference
9:45 - Opening remarks
10:15 - Visionary Leadership: Cities Leading for Change
11.30 - Visionary City Leadership: UK Councillors Leading for Change
PM theme: Collaboration
13:30 - Keynote: The art of innovation, collaboration and doing things differently
13:50 - Putting the Future Parks Accelerator Programme into Action
14:50 - In Conversation: Economics of Urban Green Space
15:40 - Keynote: Leading for transformational change. How investing in the city's green and blue infrastructure is leading to a thriving economy and healthy, successful communities
DAY 2 - Tuesday 18 October
AM theme: Health and Wellbeing
9:05 - Thematic Keynote: Why access to green space is a health issue
9:25 - Parks as Health Infrastructure
10:00 - Activating Parks for Health
11:00 - Navigating the Health Sector
PM theme: Urban Nature and Forests
13:00 - Thematic Keynote: Why we need nature and trees in cities
13:20 - Trees and Cities: Why Cities Need Trees and What Can be Done to Increase Tree Cover in Urban Areas // Nature Networks
14:20 - Retrofit of Urban Greening into Grey Places: Inspiration and Examples
15:10 - Landscape Scale Change
16:00 - Closing keynote
DAY 3 - Wednesday 19 October
AM theme: Community Participation and Activation
9:35 - Keynote: People Power: Why Participation Matters
9:55 - Everyone Welcome: Creating Green Spaces and Places That Work for Everyone
10:55 - Activating Green Spaces
11:30 - Early Shoots: Engaging Children and Young People
PM theme: Funding, Finance and New Business Models
13:00 - Thematic Keynote: Financing Nature
13:20 - The Potential of Green Finance
14:10 - Habitat Banking and BNG: A case study of what's happened in Plymouth
15:10 - Closing keynote
In addition, you will have access to interactive content, resources, and the pre-recorded sessions on the following:
Environmental Justice
Urban Nature Networks
The Role of Income Generation in Thriving Green Spaces and Communities