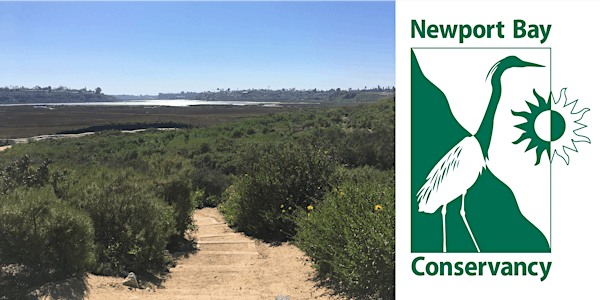 Naturalist Nights - Fall 2022
Naturalist Nights are a learning opportunity for any and all aspiring naturalists and nature lovers! A different topic is covered each week.
Refund Policy
Contact the organizer to request a refund.
Eventbrite's fee is nonrefundable.
About this event
Refer to the schedule below for topics covered each week and register for as many or as few presentations as you'd like to begin building your knowledge about the ecology, wildlife, and history of the Upper Newport Bay. Each talk will be presented via Zoom with closed captioning provided for accessibility. Registered attendees will receive the Zoom link by email as the event date/time approaches.
Recordings will be made available to registered attendees by request only.
Schedule
9/8/22: Estuary Ecology & Endangered Species with Dick Zembal, NBC & OCWD
Join local biologist and endangered species expert Dick Zembal to learn about the ecology of the Upper Newport Bay estuary and some of the special endangered species that we find in and around it.
9/15/22: Climate Change with Shahir Masri, UCI
Learn the science behind climate change, some of its impacts, and how we all can make a difference from air pollution specialist and climate change communication researcher, Shahir Masri.
9/22/22: Marine Biology with Peter Bryant, NBC & UCI
Discover the diversity of life as NBC past president and UCI professor Peter Bryant guides you through studying some of the smallest creatures on the planet - plankton!
9/29/22: Plants with Ron Vanderhoff, CA NPS
Explore the world of plants from their basic biology to the communities and habitats they create around the Bay and Orange County with local plant expert Ron Vanderhoff.
10/6/22: Insects & Spiders with Peter Bryant, NBC & UCI
Come with an open mind and you're sure to leave with a greater appreciation for the fascinating world of insects and spiders in this session with NBC past president and UCI professor Peter Bryant.
10/13/22: Fishes & Tides with Dennis Kelly, OCC
Dive into a deeper understanding of marine habitats in this talk all about tides and the fishes of the Bay with local fish expert Dennis Kelly.
10/20/22: Reptiles & Amphibians with Barry Nerhus, ICRE
Learn what makes reptiles and amphibians unique and which ones you might find around the Bay and Orange County in this session with biologist and environmental consultant Barry Nerhus.
10/27/22: History of the Bay with Cassandra Radcliff, author of Saving Upper Newport Bay
In this session, author and NBC Naturalist Cassandra Radcliff will delve into the modern history of the Bay and how it was saved from development by the founders of our organization.
11/3/22: Newport Bay Conservancy Annual Meeting with our Board of Directors
Join our Board of Directors to learn the current state of our organization and hear a review of our accomplishments over the past year.
11/10/22: Birds with Bettina Eastman, NBC & Sea&Sage Audubon
Learn how to look at a bird and begin your birding journey with long-time birder, NBC Naturalist, and Sea & Sage Audubon volunteer Bettina Eastman.
11/17/22: Diversity & Environmental Justice with Michael Mendez, UCI
Join UCI professor Michael Mendez as he discusses the impacts of environmental issues and climate change on diverse groups, how to create good policy, and best practices for communicating about these issues with diverse groups.
12/1/22: Student Proposal Presentations by the Naturalist Trainees
In our final session of the fall, this year's Naturalist Trainees will present proposals for new programs to be run at the Upper Newport Bay. Join us to listen to their proposals and vote on your favorites - there's a chance you'll get to see them implemented in the future!