NATURALHAIRNIGHTOUT.COM CHICAGO LIVE CELEBRITY DOUBLE-DOC WINTER WARMeetUP

Sunday, February 23, 2014 from 6:00 PM to 8:30 PM (CST)
Event Details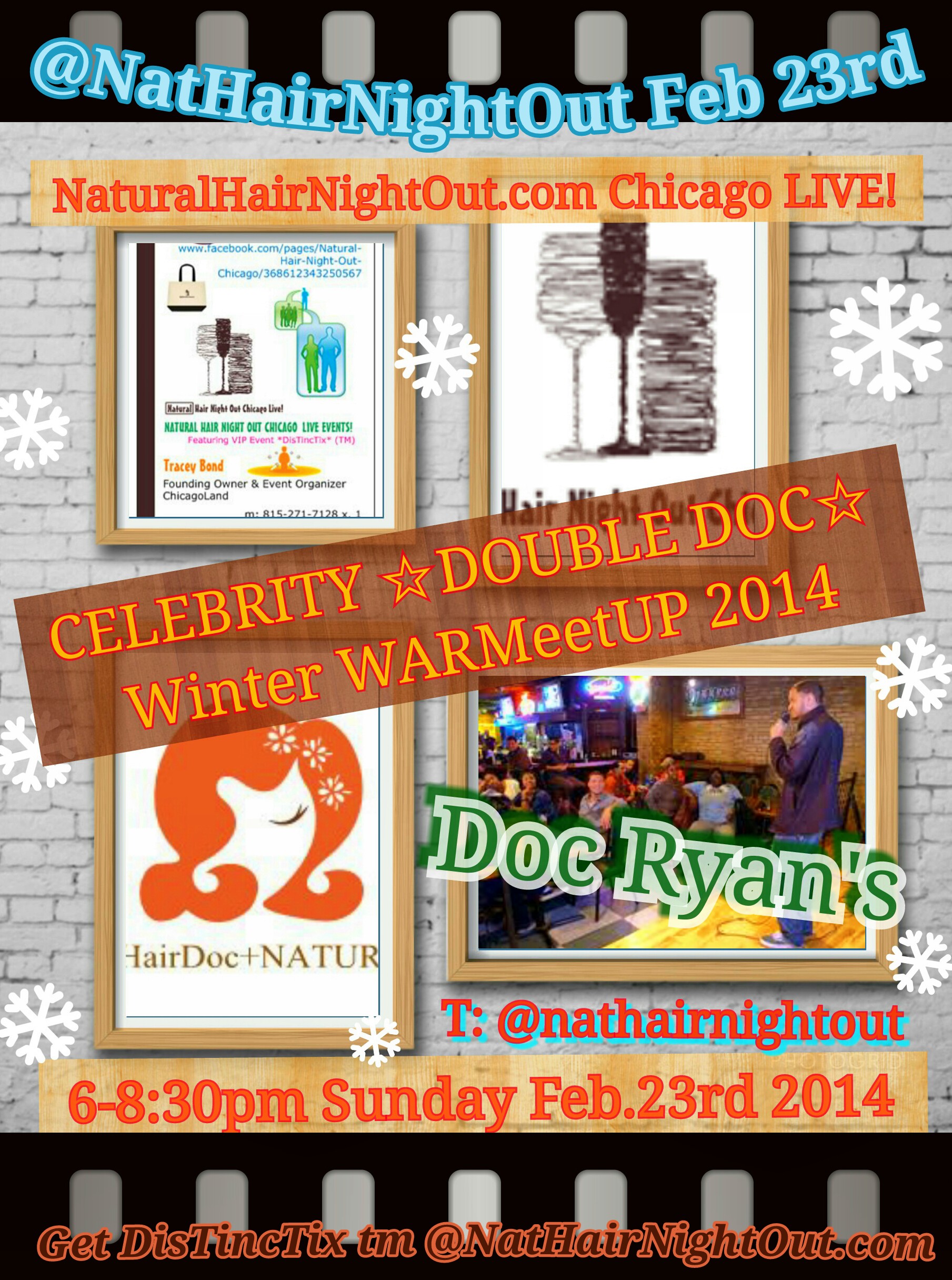 NATURALHAIRNIGHTOUT.COM CHICAGO LIVE 
CELEBRITY 'DOUBLE-DOC" WINTER WARMeetUP 2014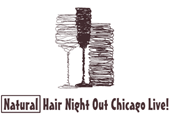 "She was the most beautiful creature on Earth - her hair said so in that language only hair can speak." 
― Gabriel Bá, Daytrippe

CLICK HERE FOR YOUR (DisTincTix tm) TICKETS at EVENTBRITE:
http://www.eventbrite.com/e/naturalhairnightoutcom-chicago-live-celebrity-double-doc-winter-warmeetup-tickets-10557615111
 
Q: WHAT's "GROWING ON" SUNDAY EVENING FEBRUARY 23rd, 2014 6:00-8:30pm? WHEN? WHERE?
NaturalHairNightOut.com (NHNO-CHICAGO LIVE) INVITES YOU…
…to join us for a Double "DOC" hosted WINTER WARMeetUP Sunday Evening Social+NATURAL™ mix-HER-IN  beauty, hair & fashion expressions …so OLD & NEW members...remember our VIP Guest Dress code: "DRESS TO IMPRESS "as we'll be photo-shooting VIPopularazzi-style & streaming LIVE on NaturalHairNightOut TV amidst the feel-right-at-home hospitality (CASH BAR Cocktails Are Optional)...UP-THE-STAIRS at Doc Ryan's on Madison in Oak/Forest Park, Illinois – Sunday February 23rd, 2014.

Q: WHAT YOU CAN SEE, HEAR AND SAY FASHIONABLY FORWARD ABOUT THIS EVENT?
Each of our confirmed (NHNO-Chicago LIVE) DisTincTix ™ guests will enjoy Chicago Celebrity guest performances by Charlie Brown, Retired NFL Chicago Bear, and President of the NFL Alumni Association's Chicago Chapter.
Q: WHAT's so VIPopularazzi  stylish about THIS EVENT?
NaturalHairNightOut.com will  publish you,our DisTincTix ™ guest(s) as the SOCIAL+NATURAL ™ STAR(s)
that YOU ARE… online in our NEW FOR 2014 "NATURALHAIRNIGHTOUT.com GALLERY OF
Natural Hair Fashion-centric Fame Page!"
With complimentary and professional photography shoots on location, you can be assured that you and your WINTER HAIR & FASHION  WEAR STYLE will be professionally captured in our VIP-branded style of  social+NATURAL evening glamour and array…not to mention features of your cameo exclusives for sharing quality HIGH-RESOLUTION photos with your very own social media/online network

FREE access to your photos as well for online gallery enjoyment or perhaps professional LAB printing (OPTIONAL at separate cost).

Surprise! NEW NHNO 2014  ONLINE/OFFLINE RAFFLE FOR SUPER SWANKK GIFT BOX!
NEW CASH (Gift Card) PRIZES (for best NATURAL BEAUTY, HAIR & FASHION DRESSED Guest CONTESTS) and VIP Chicago-Centric Celebrity Judges & Attendees.
YOR TAKE HOME Post-Event PLUS (+ + +) "Natural Beauty Icy ORANGE DREAMZICLE Swankk Baggs add NEWEST full size product(s)  value ($30+) et.als.
Exclusive NHNO 2014 DisTincTix ™ EVENT BLOGGER & VENDOR OPPORTUNITIES Available NOW
Contact e:naturalhairnightout@gmail.com

SO…..You don't want to miss this NaturalHairNightOut.com Audio-Socio-Photo-Mix-Her with other Chicago-based members of our socialNATURAL beauty, business networking and fashion-minded community. NaturalHairNightOut.com "Always Be There VIP SocialNATURALLY ™" sm
ü  GROWING SOCIAL …
WE INVITE YOU TO JOIN US ONLINE in both of our NHNO Communities on Facebook…
 Ø Natural Hair Night Out CHICAGO LIVE (Local-Based Meetup Event Community)
(1) http://www.facebook.com/pages/Natural-Hair-Night-Out-Chicago-LIVE/368612343250567
Ø  Natural Hair Night Out.Com (Official Online-Based Community)
(2) http://www.facebook.com/pages/NaturalHairNightOut
On TWITTER: http://twitter.com/nathairnightout (@nathairnightout)
ON GOOGLE (+) Plus: http://plus.google.com/u/0/+TraceyBondNaturalHairNightOut 


MEDIA CONTACT:
PRESS@BondGirl007Penterprises.comE: naturalhairnightout@gmail.com
O: (815) 271-7128 Ext. 2 (Customer Information/Service)
When & Where

Doc Ryan's Bar & Grill
7432 W Madison St
Forest Park, Illinois 60130


Sunday, February 23, 2014 from 6:00 PM to 8:30 PM (CST)
Add to my calendar
Organizer
NaturalHairNightOut.com
NaturalHairNightOut.Com - "Always Be There VIP, Social NATURALLY!" (sm)
Chicago's Leading VIP Natural Hair Social Natural Business Network Connectivity Scene!
"By INVITATION, We're Connecting * Elevating * ONLINE BROADCASTING LIVE on Radio/TV Channel Streams Our Natural HairDressed -To-Toe LIVE After work VIP Networking CELEBRATIONS on VIP Location: The Multimedia Social NEWS Buzz on "Who's Fashionably Social+Natural Business Beautiful Who…YOU!" in CHICAGO's Haute-Spots LIVE & Coming To A City Near YOU!" :)
NATURALHAIRNIGHTOUT.COM CHICAGO LIVE CELEBRITY DOUBLE-DOC WINTER WARMeetUP