Description
NATURAL HAIR FEST NewsMag Online is created as a distinct representation of the international, nationwide and hyperlocal natural hair movement. Though a rate card is offered for the in-print newspaper version of NATURAL HAIR FEST NewsMag; the rate card for the online news mag is being promoted widely to creatively brand our new natural hair publication, the Chicago area Natural Hair Fest pop-up event and create even greater public awareness for the natural hair movement.
---
( Cover from the April Issue )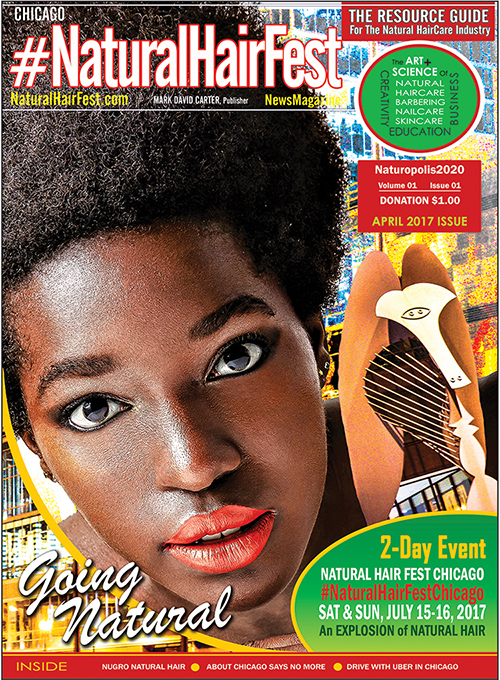 ---
The purpose of Natural Hair Fest NewsMag Online is: to expose the root culprits of hair loss, hair damage, balding, scalp irritation and various forms of alopecia that plague our communities (primarily adult women, teens and young girls) resulting from excessive chemical treatment, overuse of heated accoutrements, lack of proper sanitation, bad habits, poor nutrition, miseducation, incorrect hair care, improper techniques and heredity/genetics; to create a platform where leadership, instructors, professionals, freelancers, students, businesses and consumers (members of the general public) can convene, network, interact, dialogue, showcase, give experiences, and free pinned up emotions under the auspicies of natural beauty and barber culture across the urban landscape of metropolitan Chicago; to influence the growth, maintenance and adaptation of a change in lifestyle that prompts naturally healthy hair and unique natural hairstyles in a manner that uplifts our youth, motivates the people, encourages unity within families at large and reinforces the self esteem, self image, self love and advancement of our "natural" brothers and sisters on a local, national and global level, and to demonstrate and quantify the advancement of the worldwide dynamic, the urban Natural Hair Movement, by soliciting community participation and preservation of what has the potential to be one of the largest gathering of Naturals, Naturalistas, Culturals, Transitionals and Natural Hair Care Industry Professionals across the United States of America and all over the world.
Click the 'TICKETS" button to see our advertising options. For First Time Advertisers Only. FOR A LIMITED TIME. BUY ONE MONTH GET THE REST OF THE YEAR FREE. That's 9 Months for the price of 1 Month. Expires May15, 2017 at 11:30pm. Some restrictions apply.