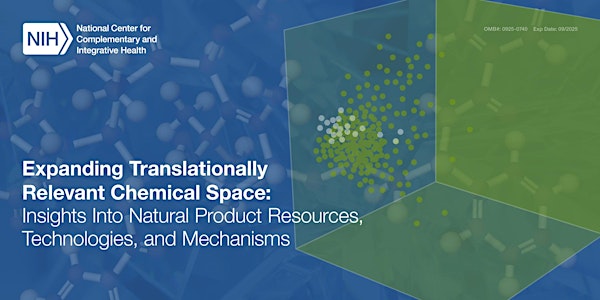 Multiple dates
Natural Products Research Hot Topics Webinar
This hot topic webinar will highlight emerging trends in natural products research.
By National Center for Complementary and Integrative Health
Date and time
March 6 · 11am - April 28 · 12pm PST
About this event
Expanding Translationally Relevant Chemical Space: Insights Into Natural Product Resources, Technologies, and Mechanisms
Part One (Monday, March 6) of this two-part webinar series will highlight natural product research resources enabling discovery and development of natural products as lead compounds and research tools.
Part Two (Friday, April 28) will focus on applications of emerging research technologies to elucidate the mechanisms of action of bioactive natural products. During this event, experts in the natural products field will touch on topics in organic structure analysis, metabologenomics, venomics, high-throughput phenotypic screening, electron microscopy techniques, host-microbe interactions, and structural biology.
Reasonable Accommodation
Individuals who need reasonable accommodation to participate should contact info@nccih.nih.gov by Monday, February 20, 2023.
OMB#: 0925-0740
Expiration Date: 09/2025
Public reporting burden for this collection of information is estimated to average 10 minutes per response, including the time for reviewing instructions, searching existing data sources, gathering and maintaining the data needed, and completing and reviewing the collection of information. An agency may not conduct or sponsor, and a person is not required to respond to, a collection of information unless it displays a currently valid OMB control number. Send comments regarding this burden estimate or any other aspect of this collection of information, including suggestions for reducing this burden to: NIH, Project Clearance Branch, 6705 Rockledge Drive, MSC 7974, Bethesda, MD 20892-7974, ATTN: PRA (0925-0740). Do not return the completed form to this address.