Natural Perfumery Beginners Workshop with Olivia MacMillan
Actions and Detail Panel
Natural Perfumery Beginners Workshop with Olivia MacMillan
Sat, May 13, 2017, 9:00 AM – 5:00 PM EDT
Description
Join bespoke perfumer Olivia MacMillan for this whole day event not to be missed. Explore the history of perfume, famous perfume anecdotes, two ways to make natural perfumes, scent notes and how to blend effective scent accords.

Students will have access to pure, luxury absolutes and essential oils like: labdanum, oakmoss, lotus, jasmine, mimosa, fir, honeysuckle, rose, and so very many more. Students will craft a perfume masterpiece to take home with them. Students completing this class will be eligible to take the advanced class where Olivia teaches her bespoke aroma weaving technique coming October 2017.

Pre-Requisite: Prior completion of Essential Oils 101 or equivalent education. This class is not for students new to essential oils.
---
About the instructor: As a little girl, Olivia used to take the little nurse's kit that her mother had given her and cover an elderly neighbor with Band-Aids while dispensing candy aspirin. Little did she know that sweet playtime was her first step onto the path of her destiny as a healer. Olivia had a consciousness awakening in 2010 which led her to her destiny as a Reiki practitioner of which she is a Usui/Holy Fire Reiki Master. Still not feeling finished, Olivia found her calling with aromas and went through an extensive certification program to become a Registered Clinical Aromatherapist and her affinity for all things natural led her to also seek her certification as a Crystal Healer and to become an Herbalism student. Next up for Olivia as a healer, she says she wants to change the world, one balanced, self-healing spirit at a time.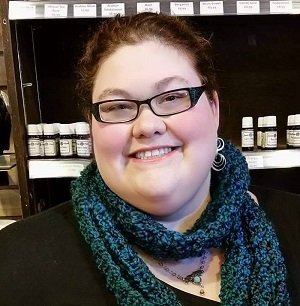 Save
Save
Save
Save
Save
Save
Save
Save
Save