Actions and Detail Panel
Natural Pain Solutions Workshop
Mon, August 8, 2016, 6:15 PM – 7:45 PM EDT
Description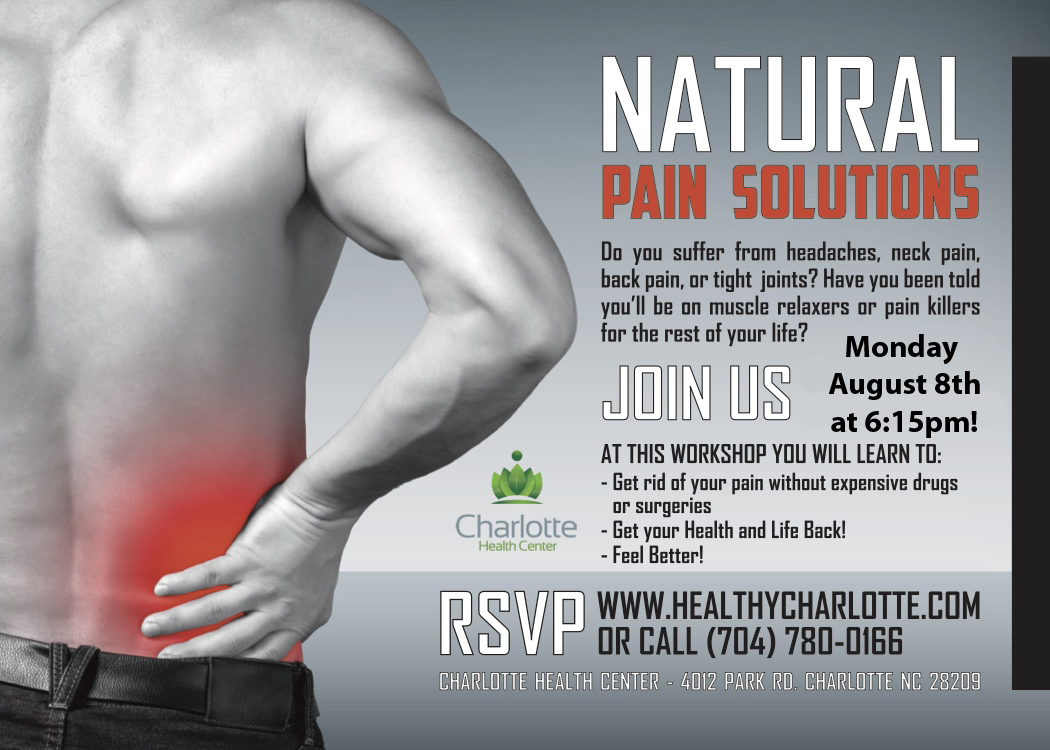 No one should have to LIVE IN PAIN!
90% of Americans will experience neck or back pain each year.
The problem is when the pain becomes chronic or constant.
You don't have to suffer and waste time and money on drugs that only mask the symptoms.
OR
Expensive surgeries that cost tens of thousnands of dollars.
There are solutions!
Are you suffering?
• Does the pain radiate down your arm or leg?
• Have you been told you have a bluging or herniated disc?
• Have you been told surgery is your only option?
• Are you constantly constantly in pain?
• Do you have joint pain?
• Regular headaches?
• Migraines?
• Is it difficult to get consistent sleep?
• Are you aging prematurely?
• Do you have constant mood swings and irritability?
• Is the pain wearing you out leading to depression?
• Trouble concentrating?
• High Blood Pressure?
• Is it affecting your relationship with your partner?
• Is it decreasing your ability to do the things you love to do?
• Are you unable to be kind to other people and are you isolating yourself from others?
• Is your performance at your job suffering leading to less compensation or advancement and lowered self-esteem?
• Are you afraid that you may never find an answer?
• Afraid of being put on medication for the rest of your life or worse, needing surgery?
How does it make you feel?
• Depressed?
• Hopeless?
• Exhausted?
• Desperate?
• Crazy?
• Like nobody understands you?
• Inadequate?
Are you ready to make a change?
Learn
• Why do most continue to suffer, get run in circles taking the wrong test, and put on multiple medications that only treat the symptoms.
• The latest research in pain management and inflammatory disease!
• Why you have never heard what the correct tests are!
The answers might shock you!
• It's not in your head.
• You're not just getting old.
• It is not your genes (There may be a genetic component triggered by certain things. We address that naturally. More on this at the seminar.)
***If you are ready to correct the cause of your problem, you are tired of treating the symptoms, and taking useless tests, this is the seminar for you!