Description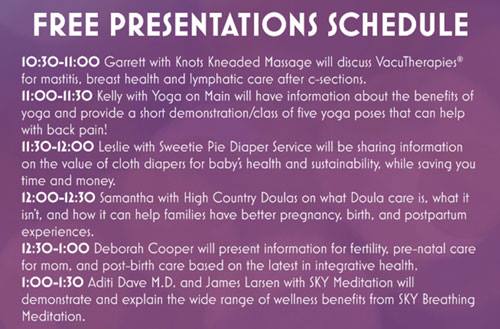 Have questions about natural ways to care for yourself before and after pregnancy? Looking for resources on holistic baby/child products, healthy food options, ways to increase fertility in men and women? Want to explore educational opportunities that are more individualized for the personal needs of your children? Look no further...
FREE event for the whole family that focuses on healthy alternatives when preparing for that new addition to your life. Talk to vendors who specialize in the wellbeing of families using a natural, gentle approach to health, whether via massage therapy, using food as medicine, skincare products, assistance in the home before and after baby is born, educational support, gentle yoga techniques or food preparation. Presentations on a pertinent health topic will occur every 30 minutes, beginning at 10:30. There will be 18 vendors with a wide array of holistic techniques and products to help your family be successful, naturally!
See our facebook event page for specific vendors, offers/discounts and speakers from the Yadkin Valley region.
Pre-registration will qualify ticket holders to free drawings, discounts and promotional offers that benefit the whole family. Get your free ticket today!