Description

Natural Dye Workshop with New England Farm to Fiber
Presented by The Trustees
The KITCHEN is pleased to present a hands-on Natural Dye Workshop in partnership with New England Farm to Fiber and Wing & A Prayer Farm. Enhance your appreciation for the natural world with a day of dyeing Wing & A Prayer Farm yarns using foraged and found materials for luminescent, beautiful color. Through demo, discussion, and a hands-on approach, Tammy from Wing & Prayer Farm will lead you on journey of exploring the world of natural color.
In this workshop, you will learn how to derive color from a variety of materials such as petals, berries, cones, found objects from the field, forest and your very own kitchen. You will learn how to prepare your fibers for dyeing using simple mordants that can be collected from the garden or the woodland floor, and about overdyes and modifiers to alter your colors to produce lasting, naturally beautiful yarn. Local resources are the heart of Tammy's natural dyeing stock but, additionally, she sources through a variety of methods to obtain colors as sustainably as possible.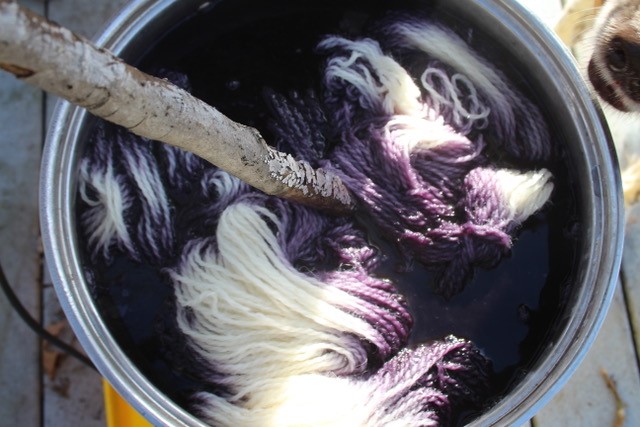 The class will begin with a demo which details preparation of fiber and dye stock, different methods of coloring your yarn, and samples of seasonal palettes. There will be time to explore Eco Printing & Bundle Dyeing for varied prints and colors using leaves, flowers, nuts and bark.
We'll explore the various methods of extracting color from a range of objects, a notebook is handy for this class. The pace of the workshop is steady and relaxed, as there is no rushing natural dyeing. We will ensure you have plenty of time to learn without becoming overwhelmed if you are new to dyeing, or ask questions and explore if you come with some background in dyeing. We will break for lunch midway through the workshop.
Costs: General tickets (non-members) are $155 and Trustees Member tickets are $125. This includes a $30 materials fee. Each student will receive a Wing & A Prayer Farm Natural Dye Booklet; pre-scoured, pre-mordanted fibers for dyeing including 300 grams of Wing & A Prayer Farm breed specific farm yarn and roving; 100% organic cotton cellulose fiber square + 100% organic protein fiber square; natural dye extract; foraged materials; waterproof packaging for taking wet fiber at conclusion of class.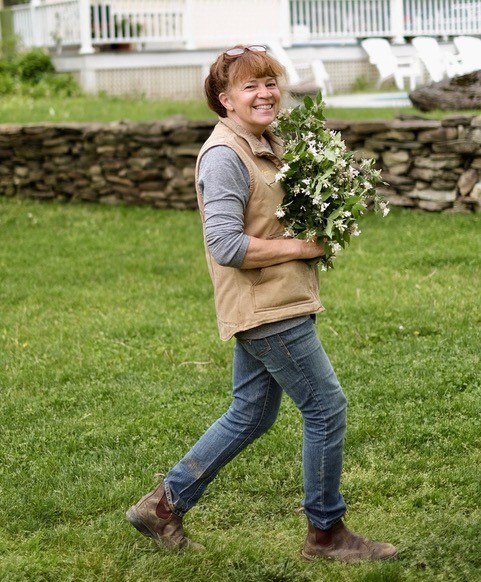 About Tammy and Wing & A Prayer Farm
Tammy is a shepherdess on Wing & A Prayer Farm in Southern Vermont where she raises various fiber flocks and herds to cultivate breed-specific farm yarns. In addition to caring for the farm of 70 sheep, 9 alpacas, 9 angora goats, 6 Cashmere goats and more, she dyes her own yarn with color from nature using plant matter in her surrounds and natural dye extracts. She has over 30 years of experience as an educator and she regularly shares at workshops and farm tours.
About New England Farm to Fiber
New England Farm to Fiber is an all natural farm fiber company based in the Boston Public Market. We support and promote small family fiber farms throughout New England with an emphasis on breed specific yarns.
About The Trustees and The KITCHEN
As one of the largest owners of agricultural land and the premier steward of the cultural and natural landscape of Massachusetts, The Trustees extends its leadership to transform the local food system by connecting residents and visitors back to the land and sharing the Commonwealth's collective agrarian heritage through innovative retail and educational experiences at the Boston Public Market in the heart of downtown Boston.
The KITCHEN is a community gathering place, managed by The Trustees, that is restoring the craft of seasonal cooking in Massachusetts, New England, and beyond through hands-on classes and educational experiences that celebrate the farmers and artisans of this region. Partnered with the Boston Public Market, The KITCHEN embraces a whole-food approach to eating and promotes cooking as an essential cornerstone of a sustainable food system.
Join The Trustees and receive 20%-50% off all classes, workshops, and events at The KITCHEN and all Trustees properties.
Program Refunds/Cancellations: In the event that a program is cancelled due to severe weather, low enrollment, or other circumstances, we will notify you as soon as possible by email and issue you a full refund within 14 days of the cancellation. If you cannot attend a program as planned, contact kitcheninfo@thetrustees.org at least 7 days prior to the start of the program to receive a full refund. Refunds will not be granted for registration cancellations placed fewer than 7 days before the start of the program. There are no refunds for missed classes. The KITCHEN reserves the right to change program locations, schedules, or instructors when necessary.