Description
Join us for an interesting talk about natural beekeeping practices given by Alice Hinman! Her energy and enthusiasm about taking care of honeybees is infectious!
This is a free event. Donations to Apiopolis are glady accepted. Every $5.00 donation will recieve a raffle ticket for a framed print by artist Jayne Walther.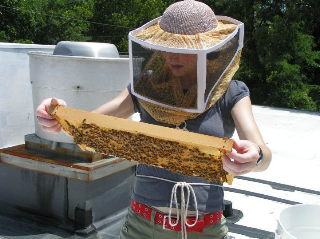 Alice is a longtime natural beekeeper and founder of Apiopolis, Raleigh's nonprofit urban bee sanctuary. In awe of these amazing creatures and aware of the stresses they are currently facing and their alarming declines, she began studying sustainable and biodynamic beekeeping practices with Gunther Hauk at Spikenard Farm Honeybee Sanctuary in Virginia to learn how to better care for bees and support all pollinators in a holistic and reverent manner. Alice is translating the philosophies and practices Spikenard employs in its idyllic rural setting to Raleigh's urban environment. Apiopolis' mission is to engage with the vibrant urban ecology of the city and the surrounding landscapes and to support its thriving local food system by emphasizing the critical role honeybee play in its success. Apiopolis endeavors to improve the health of honeybees and other pollinators by promoting natural and sustainable beekeeping practices, planting healthy pollinator habitat, developing awareness and involvement and to support the local community and economy by creating green jobs, forming dynamic collaborations that span disciplines and boundaries and celebrating the strength and creativity they accomplish and inspire.
---
This talk is a part of the Inter - Depend - Dance art exhibt.
Artist Jayne Walther has organized events that will inspire and educate the community. Jayne uses her artwork to bring awareness to the idea that we are all connected. Since beeswax is used in some of her work Jayne has focused attention on how we can better help the honeybee. Her art exhibit features planned lectures and opportunities for charitable giving to Apiopolis, an urban bee sanctuary and Bee Better a non-profit organization that helps homeowners build better backyards for bees.