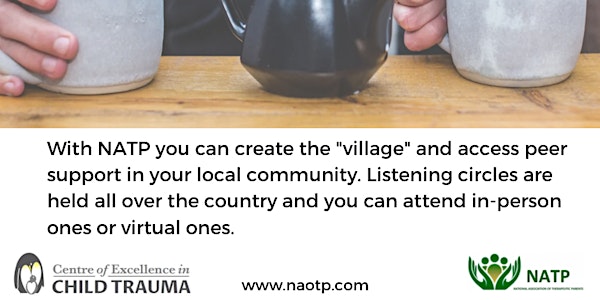 NATP Gloucestershire Listening Circle for parents.
Location
The Haven Parenting and Wellbeing Centre Ltd
The old forge office
Ham
GL13 9QH
United Kingdom
Our next Gloucestershire Listening Circle meet up for parents of neurodivergent children.
About this event
A date for your diary!
Come along to our next Gloucestershire Circle meet up. Sair and Emma will be coordinating this meet up.
What are Listening Circles?
Listening Circles are locally and virtually organised support groups ran by the National Association of Therapeutic Parents (NATP Ltd) you can find more information on us here www.naotp.com
They are a child-free opportunity for parents to relax, and chat with other parents of neuro diverse children and also children who have experienced early life trauma. Stay for the two hours or pop along for a shorter time, whatever you can manage.
This is part of a paid membership package which members can join for £4.99 per month. However if you are not currently a Member of NATP, feel free to come along for a free trial, we would love to see you!
We know going to new groups can be daunting so do send us an email to natp@coect.co.uk and find out more.
The themes discussed at Listening Circles relate to Therapeutic Parenting strategies, solutions, challenges, and successes. Listening Circles exist to empower parents, help interrupt compassion fatigue and are essential for your mental health and well-being.
Please note: Due to the nature of conversations at Listening Circles, this event is not suitable for children.