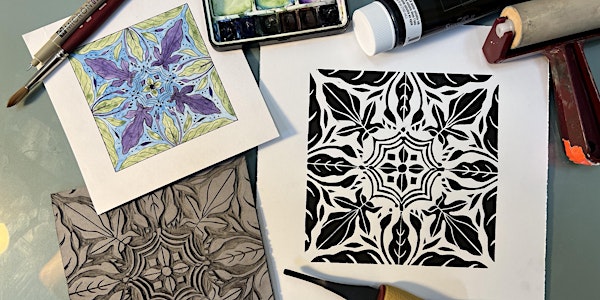 Native Plants to Design and Printmaking
Draw and paint native plants, then take elements of these drawings to translate to design and printmaking.
When and where
Location
Capileira 1 Calle Romano 18413 Capileira Spain
About this event
June 3rd - 11th 2023 Drawing Native Plants to Design and Printmaking - Nancy Seiler
Daily 10:00 to 5:00 with June 7th considered a break day to consume course teachings and gather inspiration.
The first half of the week will be spent drawing native plants in situ (on site) near the village of Capileira Spain. After a mid-week field trip to see Spanish tilework, we'll spend the second half of the week in the studio or it's gardens to develop a tile design [or a design of your choice] from your drawings. We'll transfer this design to a linoleum plate, carve it and print it. Everything will be taught step-by-step so if you aren't familiar with drawing plants, design, or printmaking you will be by the end of this workshop. Click here for basic information about this workshop and to register. Price $2,350.
Instructor: Nancy Seiler Nancy received her graphic design degree from The Art Institute of Pittsburgh in 1981. Now, as a Golden Working Artist for Golden Artist Colors, she presents lecture demonstrations and workshops in acrylic, watercolor, and oil in Southern California and Montana. She has taught classical botanical illustration and nature journaling since 2003. Her acrylic paintings are represented by Frame of Reference Fine Art in Whitefish and Bigfork, Montana and Tucson, Arizona. View her website at www.nancyseiler.com. Assistant Printmaker: Maureen Sheldon
Who is it for: Do you love Spring wildflowers? Are you inspired by Spanish tile work and design? Do you want to learn how to do simple relief printmaking? In this workshop we'll combine all three! No experience necessary—small class ensures one-on-one guidance. We have a very inspirational landscape to work from within.
Click here to learn about our host, transArtlantic eksperimentum, and Capileira.
Click here to learn about other workshops offered by transARTlantic eksperimentum—and Nancy's other workshop right before this one!