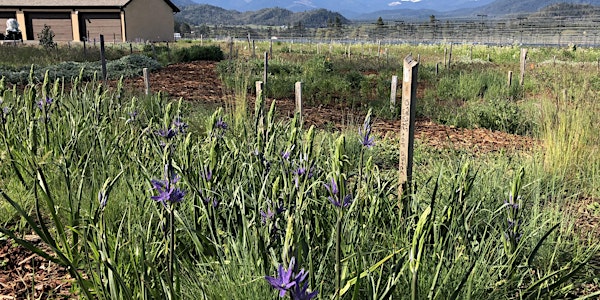 Multiple dates
Native Plant & Pollinator Botanical Garden Tour at Troon Vineyard
Troon Vineyard is increasing biodiversity on the farm! Come learn about native plant ecology and native plant propagation in their garden!
By Pollinator Project Rogue Valley
When and where
Date and time
Sunday, June 5, 2022 · 9 - 11:30am PDT
Location
Troon Vineyard 1475 Kubli Road Grants Pass, OR 97527
About this event
Troon Vineyard
Native Plant & Pollinator Botanical Garden Tour
Sunday June 5, 2022
Troon Vineyard is increasing biodiversity on the farm! Come learn about native plant ecology, native plant propagation and gardening at the Troon Vineyard Native Plant Botanical Garden tour! Suggested donation of $15 per person for the tour will be accepted on site to benefit Pollinator Project Rogue Valley and Siskiyou Chapter Native Plant Society of Oregon.
In December 2020 Klamath-Siskiyou Native Seeds installed a half-acre native plant and pollinator botanical garden at Troon Vineyard in the Applegate Valley. To date, 94 species of native plants have been established in the garden, primarily from direct seeding, with some native planting from nursery plants.
With paths and plant signs to guide you through the botanical garden, and views out towards the Applegate foothills and Grayback Mountain, the Troon Native Plant Botanical Garden provides an easy and delightful place to learn about native plants, pollinators, and a demonstration about how to incorporate more native plants into the farm and vineyard setting.
Suzie Savoie of Klamath-Siskiyou Native Seeds will walk tour participants through the paths of the botanical garden, providing detailed information for various species along the way, including:
Plant identification
Plant habitat in the wild
Pollinator ecology
Plant propagation and establishment methods in the garden
Plant care and at-home gardening recommendations
Suzie Savoie is co-owner of Siskiyou Ecological Services and Klamath-Siskiyou Native Seeds. She was co-author of Native Pollinator Plants for Southern Oregon and an editor of The Siskiyou Crest: Hikes, History & Ecology. Suzie provides native seed collection services, online native seed packet sales, native nursery plants, and native plant consultation and planting plans. She is an avid hiker, backpacker, gardener, native plant enthusiast, and off-grid homesteader. For nineteen years Suzie has been using native plants for gardens and habitat restoration on her property in the Applegate Valley, and she enjoys helping others do the same.
Kristina Lefever and Arti Kirch from Pollinator Project Rogue Valley, Katelyn Detweiler from Siskiyou Chapter Native Plant Society of Oregon, Garrett Long and Nate Wall from Troon Vineyard, and others will provide additional information, insights and commentary along the way to help further important discussion topics.
Two tour times will accommodate up to 25 registered participants for each time slot.
Tour #1
9am-10am
and
Tour #2
10:30am-11:30am
Please bring personal items for a warm, sunny June day and an optional picnic lunch to pair with an optional wine tasting after the tour. The Troon Vineyard tasting room opens at 11am.
We look forward to seeing you there!
Suzie, Kristina, Arti, Katelyn, Garrett and Nate
Additional Opportunity ! Troon staff are also available for farm-wide tours to see the rest of the Troon biodynamic farm and vineyard, after the Native Plant Botanical Garden tour. These 1-hour tours will start at 10:15 & 11:45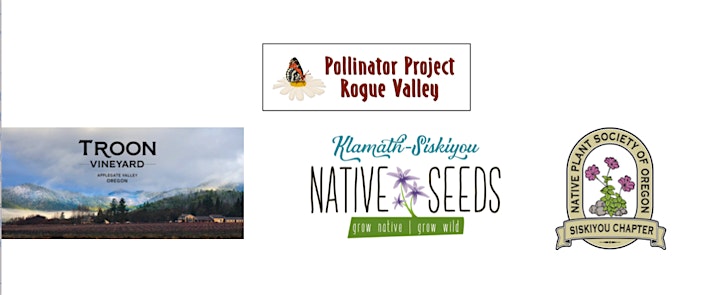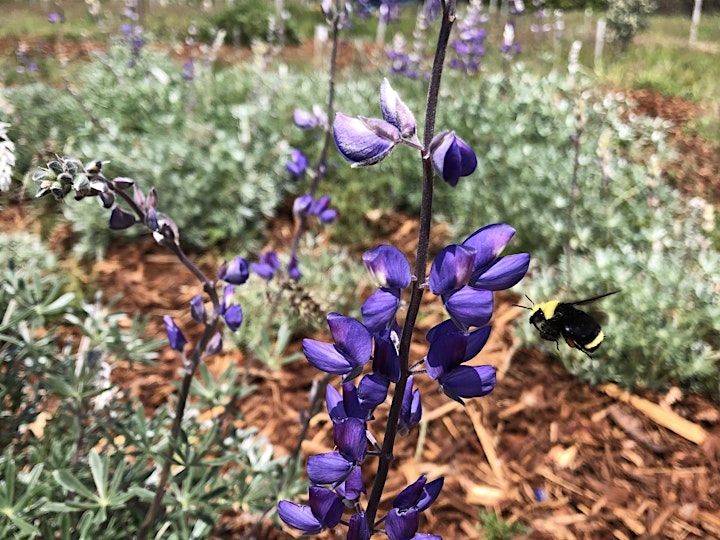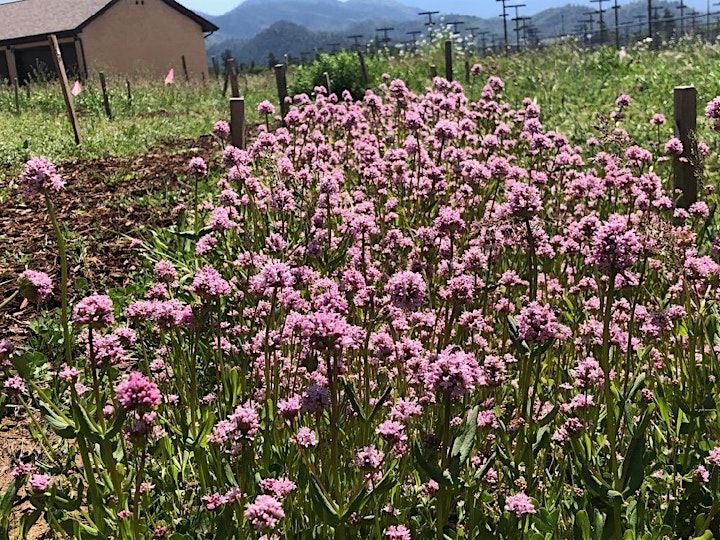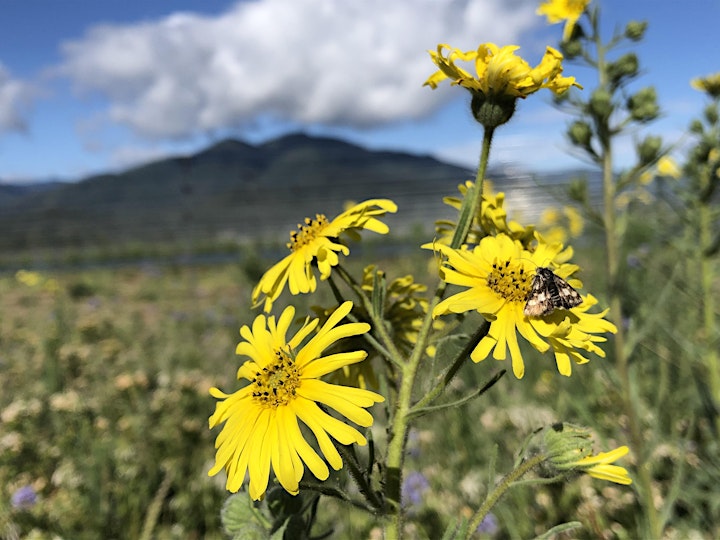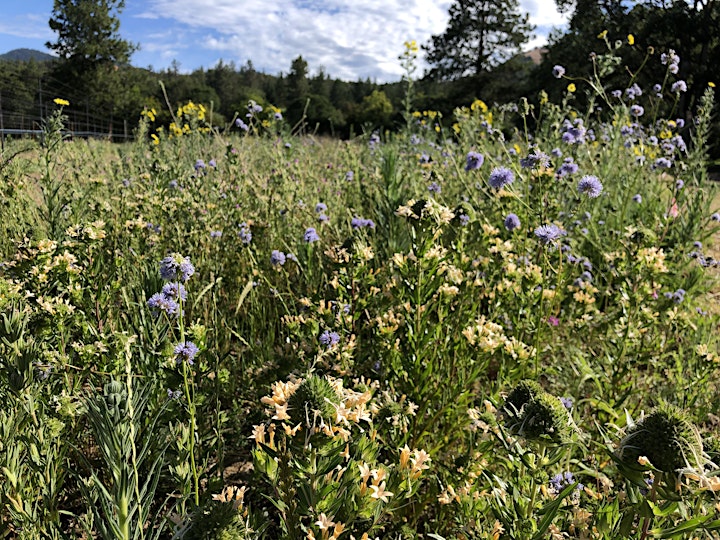 About the organizer
Pollinator Project Rogue Valley is a volunteer-led Oregon-registered 501(c)(3) nonprofit. We envision communities and landscapes working together, supporting diverse ecosystems rich with native plants and thriving wild pollinators.
We inspire, engage, and educate about the ecological importance of wild pollinator species and the diverse native plant communities essential for their survival. We are committed to the creation and restoration of pesticide-free pollinator corridors throughout the Rogue Valley.
Your donation to Pollinator Project Rogue Valley supports our work. Donate directly on our website at https://www.pollinatorprojectroguevalley.org/donate