Description
Explore the Whitewater Reach of the Nisqually River while learning about native trees, shrubs, and a variety of other understory plant species found on this forested shoreline site.
This Land Trust property is part of the Yelm Shoreline Protected Area, a 260-acre block of protected lands that include a reach of the Nisqually River that provides spawning grounds for coho and threatened Chinook and steelhead salmon, and is excellent rearing habitat for all five Nisqually salmon species.
This is a partnered walk with the WA Native Plant Society, South Sound Chapter.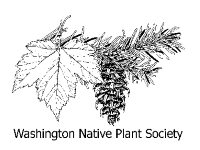 Learn more about this local organization and their important work here: http://www.southsoundchapterwnps.org/