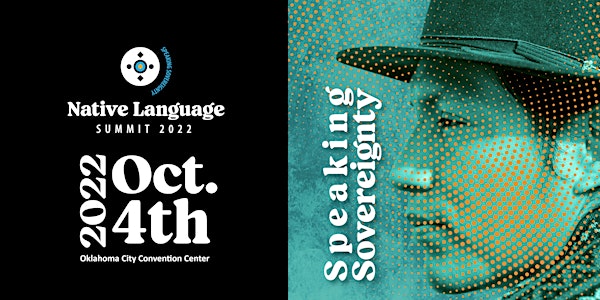 Native Language Summit: Speaking Sovereignty
The 2022 Native Language Summit is taking place in Oklahoma City on October 4th!
When and where
Location
Oklahoma City Convention Center 100 Mick Cornett Dr Oklahoma City, OK 73109
About this event
The U.S. Department of the Interior, Bureau of Indian Education, Department of Education, Department of Agriculture, and Health and Human Services invite you to attend the 2022 Native Language Summit (NLS) on October 4th.
This year's theme, "Speaking Sovereignty," focuses on the preservation and revitalization of Native languages.
The NLS is committed to supporting the integration of Native language instruction and language into educational settings and strengthening community consultation around Native languages.
We are thankful to gather again and share the challenges and paths to success in teaching Native languages within our communities.
NO REGISTRATION FEE & LUNCH WILL BE PROVIDED!
Zoom Link:
Native American Language Summit: https://bit.ly/NALS2022
Should you have any issues with either link, please copy and paste the URL into a new browser window to facilitate a new Zoom viewing session.
Listening Session Questions
What existing Federal funding streams and resources are most helpful to your Native language programs, initiatives, or efforts?
What are the barriers and challenges to Native language revitalization and protections?
Aside from increased Federal funding, what more could the Federal government do to support Native language revitalization, reclamation, and protection?
What elements need to be in a National plan for Language Revitalization?
What role should Tribes and others have in the National Plan?
Deadline for written comments: November 18, 2022 - Midnight
Email: consultation@bia.gov