Native End Presents: Emancipator w/ Shigeto & Marley Carroll

Wednesday, March 21, 2012 at 8:00 PM (PDT)
Event Details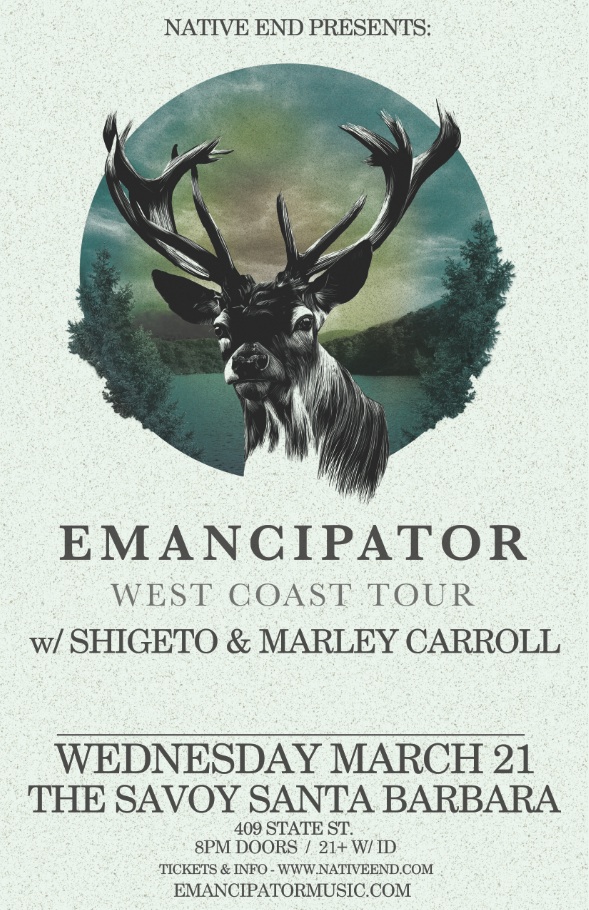 We couldn't be more excited to kick off emancipator's west coast tour with Shigeto and Marley Carroll, all making their Santa Barbara debut on March 21 at the Savoy. This is sure to be an incredibly special evening in an intimate setting that you won't want to miss. We expect this event to sell out fast so don't forget to grab you tickets!  
Emancipator
To some, it must seem like this young electronic producer came out of nowhere this year, but those in the know have been following Emancipator since he self-released his first album, Soon It Will Be Cold Enough, at the age of 19 in 2006. His agile melodies layered over headnodic, immaculately-produced beats captivated fans across the internet and across the world. "Soon It Will Be Cold Enough" was picked up by Japanese super-producer Nujabes, pressed in Japan and sold 5,000 copies in the first six months. Emancipator landed a Puma sponsorship, gave an interview to Rolling Stone Japan, discovered one of his songs was played at the Beijing Olympics (still trying to figure out how that happened) and his song "Shook," a mashup that perfectly mixes Mobb Deep's mighty raps with a haunting track from the Icelandic band Sigur Ros, become the highest-rated song on Hype Machine's "Best 50 Songs of 2007," and appeared on Hype Machine as the #2 most popular song in April 2009.
His latest album "Safe In The Steep Cliffs" blends new instrumentation and organic samples with the signature Emancipator style of clean production, silky melodies and addictive drums. Dense layers of choirs, horns, American folk instruments such as the banjo and mandolin, violin and some distinct Asian influences make for a playful but refined album built out of intricate tracks listeners can enjoy on as many levels as they want. Dance to it, chill out to it, immerse your mind in it.
http://www.emancipatormusic.com/
http://soundcloud.com/emancipator
http://emancipator.bandcamp.com/
SHIGETO
Artists take on pseudonyms for a multitude of reasons, but in Zach Saginaw's case, those reasons run deeper than most. Zach records under the name Shigeto. It's his middle name; it's also his grandfather's name, a tribute to the Japanese branch of Zach's family tree. Shigeto also means "to grow bigger"—appropriate, given Zach's premature birth-weight of less than a pound. Today, Shigeto stands for Zach's vividly beautiful electronic music. Beat-driven but given to richly textured sound design, rhythmically fractured but melodically sumptuous, Shigeto's music is a bridge between the past and present, bringing the artist face to face with a creative legacy that spans decades. 

Zach's body of work has grown over the last few years to the tune of several EPs on Moodgadget as Shigeto and with A Setting Sun, a pair of EPs under the alias Frank Omura (another family-name reference), and remixes for Worst Friends, Praveen & Benoit, Tycho, Mux Mool, Charles Trees, A Setting Sun, Beautiful Bells, Shlohmo, and more. The Semi-Circle EP will be his first release with Ghostly International; the full-length Full Circle is on the horizon. Semi-Circle is a fiercely independent work of art, nominally indebted to instrumental hip-hop but, like Zach, straddling many worlds at once. Cool shades of ambient music, stuttering early IDM, dubstep sub-bass, and jazz melodicism color Shigeto's palette, which he wields with a painterly attention to detail. 

As Ghostly International hits its 10th anniversary, Shigeto is one of the first of a wave of young artists who grew up influenced by the label's early output. And again, names come into play. "Putting out this record on Ghostly isn't just 'getting signed,' for me," says Zach, "it's becoming part of a family, an influence that I've respected forever. That's Full Circle." Let's just say the feeling's mutual. 
http://iamshigeto.com/
http://soundcloud.com/shigeto
http://shigeto.bandcamp.com/
Marley Carroll
Marley Carroll is a prodigious multi-instrumentalist, producer and DJ from Asheville, North Carolina. The beginnings of his musicianship sprang from training in piano, percussion and scratch DJ technique. His 2007 debut album, Melanaster was the result of meticulous bedroom alchemy, sounding like a lost Radiohead LP submerged in ten feet of salt water. Not surprisingly, much of the inspiration for this album was drawn from the ocean. This is apparent through the notions of vastness, hypnosis and unpredictability often elicited when listening. Marley created Melanaster entirely on his own—from composition to instrumentation to recording and mixing. The album's touchstones are found in the space between the beautiful haze of early Nineties shoegaze rock (My Bloody Valentine) and early 2000's IDM (Autechre, Squarepusher). The result is smeared, melancholy pop songs tethered to abstract electronic rhythms, what NPR called "gorgeously subdued glitch-pop". 
http://marleycarroll.com/blog/
http://soundcloud.com/marley-carroll
Full Preview: http://www.nativeend.com/2012/02/11/emancipator-w-shigeto-marley-carroll-3-21/
Have questions about Native End Presents: Emancipator w/ Shigeto & Marley Carroll ?
Contact Native End
When & Where

The Savoy
409 State St.
Santa Barbara, CA 93101


Wednesday, March 21, 2012 at 8:00 PM (PDT)
Add to my calendar
Organizer
Native End
A forward thinking production company dedicated to organizing next-level events featuring world-class musicians, artists and intellectuals working together to provide an experience that is deeply rooted in a desire to continuously pursue an understanding of the nature of reality and the power of the human mind.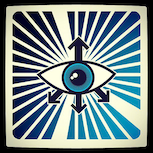 www.NativeEnd.com
Expanding the Creative & Intellectual Mind
Native End Presents: Emancipator w/ Shigeto & Marley Carroll