Native End Presents: David Starfire, ill-esha, jOBOT

Thursday, March 15, 2012 at 9:00 PM (PDT)
Event Details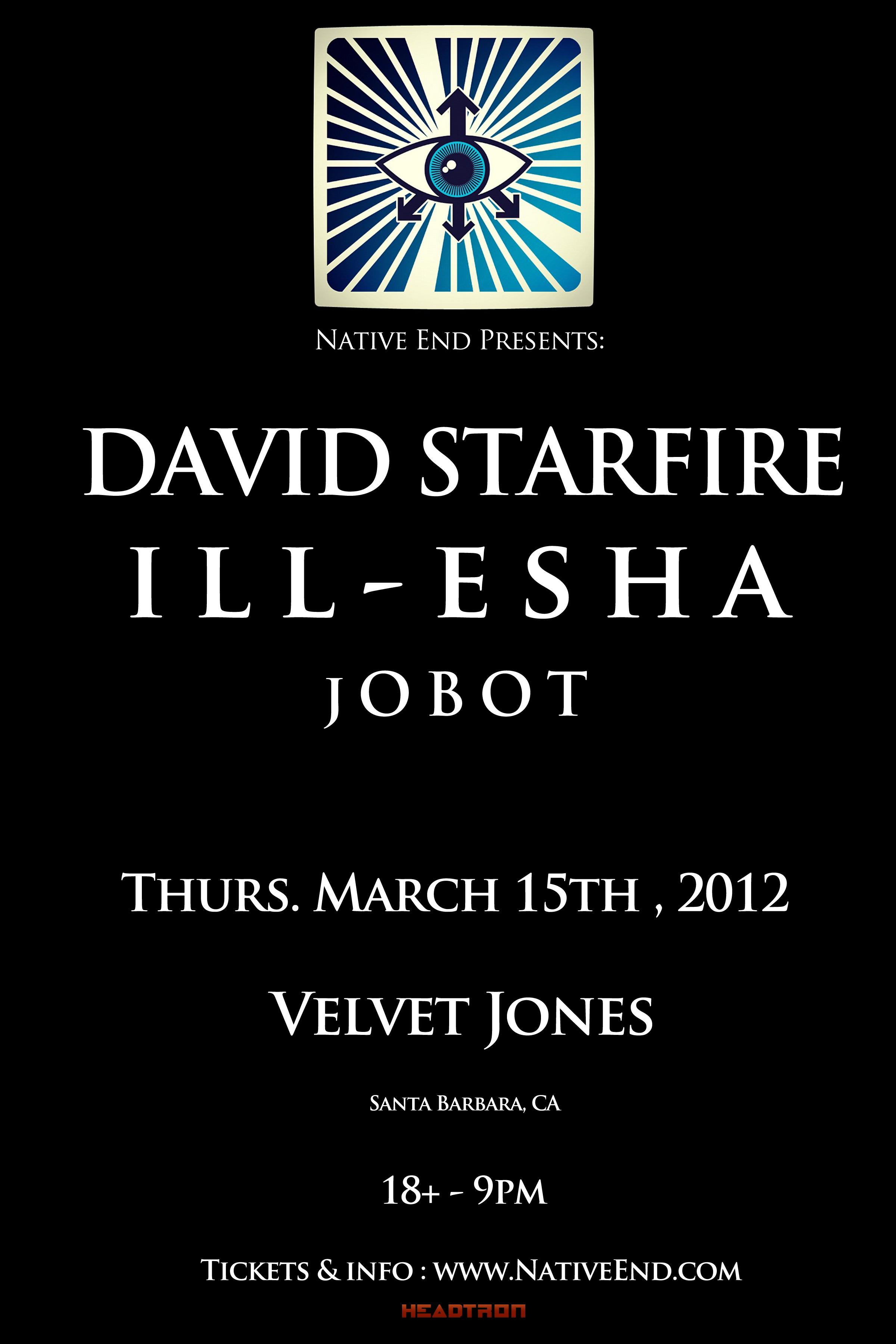 In sharing with you our excitement for what is surely a big year to come, we decided to kick it off with a bang and bring you a night of high energy, cutting-edge electronic music infused with flavors and sounds from all over the world. WIth no further adieu, Native End is proud to present an evening with David Starfire, ill-esha and jOBOT on March 15th at Velvet Jones.
David Starfire
David Starfire is a producer, composer, multi-instrumentalist and DJ based in Los Angeles and San Francisco. His production style is eclectic, fusing world music with dance, hip hop and everything in-between. He's developed quite a following and his unique sound is catching the ears of music fans across the globe.
David is signed with the internationally known label Six Degrees Records, home to artists such as The Orb, Bebel Gilberto, Cheb i Sabbah, Karsh Kale, Midival Punditz, Michael Franti, Natacha Atlas, DJ Spooky and many others. He's released two records, "Bollyhood Bass" in 2010 and "Bombay Beatz" in 2007. His tunes have been played on BBC, NPR, National Geographic, XM radio and various stations around the world.
His signature sound landed him several DJ gigs at large scale international festivals all over the world such as Winter Music Conference, Coachella, Love Parade, the Forum, Musikmesse, Electric Picnic, Shambhala, Harmony, Burning Man, Lightning in a Bottle, Lovevolution and Earthdance. He has shared the stage with all the top DJ's such as Tiesto, Bassnectar and Skrillex. He also sets himself apart from other DJ's by playing bass guitar and electronic hand drums during his set and for special festival shows he incorporates a live 8+ piece band under the name "David Starfire Live Ensemble".
www.davidstarfire.com
www.facebook.com/davidstarfiremusic
www.soundcloud.com/davidstarfire
www.youtube.com/davidstarfire
www.vimeo.com/davidstarfire
ill-esha
Hailing from Vancouver, BC and now residing in San Francisco, CA, ill-esha burst onto the North American electronic scene as a soul vocalist featured on various releases for the likes of Breakbeat Science, Fokuz, and BluSaphir, gradually becoming known for the seamless incorporation of original vocals and MCing into DJ sets expressing her unique take on bass music. Her multi-dimensional approach spans glitch hop, dubstep and downtempo, creating a dynamic live show which has set ill-esha apart amidst some of electronic music's most groundbreaking acts.
With releases on trendsetting labels such as Muti Music, Daly City, Street Ritual, Subway, Haunted Audio, Dub Police and Simplify, ill-esha has ranked #1 on Junodownload, #2 on Addictech, and #3 on the Beatport Electronic charts as well as held the #1 spot on Soundcloud for 2 weeks in early 2011.  ill-esha's most recent album, Circadian Rhythms, released on San Francisco's Daly City, went public to critical acclaim in the electronic world catapulting her trademark blend of feminine energy and ruthless bass to further worldwide recognition.
www.facebook.com/ill.esha.music
jOBOT
Joe Wendt, aka jOBOT, began his love affair with music fingering the strings of the upright jazz bass at age 12.  Never losing track of his classical training, his repertoire voraciously swallowed up every genre, and Jazz cohabitated happily with many muses—dearest to his heart, Funk.
2008: Enter: Warp Records, Squarepusher.  The sounds of the electrified bass, the crunchy, tasty, awesome-sauce bass, were the crucible in which Joe Wendt was transformed into jOBOT.
jOBOT is an original producer of pulsating midtempo grooves and scandalously sexy downbeat melodies.  An electronic musician of a whole new type, he fuses an immense breadth and depth of listening and training with funk-fueled bass playing, smooth vocals, and an ineffable balls-out, experimental, and creative spirit that  "jOBOT" encompasses.
 
www.headtron.com/artists/jobot
Details:
Thursday March 15, 2012
9pm – 18+
Velvet Jones
423 State st.
Santa Barbara, CA
Have questions about Native End Presents: David Starfire, ill-esha, jOBOT?
Contact Native End
When & Where

Velvet Jones
423 State St.
Santa Barbara, CA 93101


Thursday, March 15, 2012 at 9:00 PM (PDT)
Add to my calendar
Organizer
Native End
A forward thinking production company dedicated to organizing next-level events featuring world-class musicians, artists and intellectuals working together to provide an experience that is deeply rooted in a desire to continuously pursue an understanding of the nature of reality and the power of the human mind.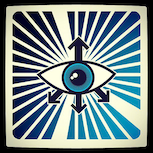 www.NativeEnd.com
Expanding the Creative & Intellectual Mind
Native End Presents: David Starfire, ill-esha, jOBOT