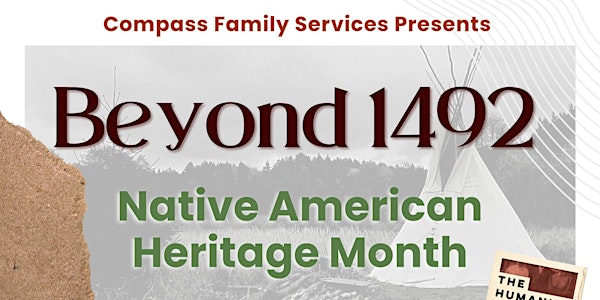 Native American Heritage Month featuring Jermaine Fowler
Join CFS as we welcome Author and Historian Jermaine Fowler as the keynote for The Inclusion Talk Series, Indigenous Heritage Month.
About this event
Join Compass Family Services as we honor Native American Heritage Month with a special presentation entitled "Beyond 1492" from author, historian, and podcast host Jermaine Fowler.
Jermaine is the author and host of the podcast, The Humanity Archive, which focuses on the overlooked narratives in the pages of the past. Challenging dominant perspectives, Jermaine Fowler goes outside the textbooks to find stories that are recognizably human. Connecting current issues with the heroic struggles of those who've come before us, he brings hidden history to light and makes it powerfully relevant.
You can learn more about The Humanity Archive by visiting https://www.thehumanityarchive.com/
Jermaine will serve as the virtual keynote for The Inclusion Talk Series, a monthly learning and engagement opportunity to establish a brand identity for Diversity, Equity, Inclusion, and Belonging (DEIB) related activities that are open to the public. The Inclusion Talk Series aims to honor various cultural heritages and religious observances.
You won't want to miss this!