National Young Artists' Summit
Description
THE WHO
This full-day Summit, entirely designed and led by young people, provides opportunities for youth leaders, ages 13-24, from a range of artistic disciplines, to connect, create, and celebrate.
The Summit has been planned by a core team of young artists from Baltimore, San Diego, and Detroit, who are working in concert with their peers across the country to shape this incredible experience. The Summit is free to youth, but pre-registration is required. Space is limited. Lunch is provided.
This event is being hosted in concert with the 2018 Conference for Community Arts Education, a national convening which aims to ensure all people have opportunities to maximize their creative potential.
---


THE WHAT

We'll be kicking off the day with a community meal and performances from young artists across the country. Then, attendees will dive into a series of kickbacks (workshops) centered on arts entrepreneurship, creative expression, arts activism, leadership development. Throughout the day there will be moments to share your art with other young people from across the nation.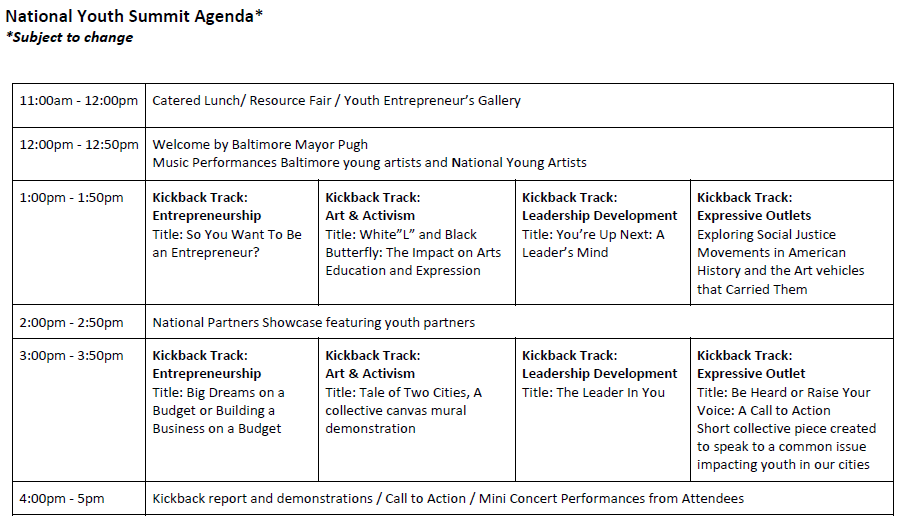 A taste of some of the Kickbacks:
Entrepreneurship: So You Want to Be an Entrepreneur?: Business Owner and Life Entrepreneur: Joni Holifield and Youth Entrepreneur and Mentor, Jerome Waters help emerging arts entrepreneurs understand the importance of pursuing their dream and organizing their thoughts to take the first steps of becoming a business owner. If you have an idea, but you just need a nudge and some positive encouragement to take the first steps, this kickback is for you.
Art & Activism: The White "L" and The Black Butterfly: Ever thought you were living in a city with two personalities. Using the Tale of the Two Baltimores, Rashad Staton and Aaron Maybin will share how institutional racism has created an invisible boundary dividing Baltimore City and many urban cities like it across the country, creating major disparities and inequities that impact accessibility to arts, education and youth opportunity. We can't create a better tomorrow, ignorant of the past.
Leadership Development: You're Up Next: A Leader's Mind: With great talent comes great responsibility. How are we using our individual and collective talents to be the change we want to see. This kickback sets the stage for what youth leadership looks, feels and sound like for today's generation. Who are our leaders and what do they represent that we can support?
Expressive Outlet: Arts and Social Justice: A Relationship that Makes Sense: How have the arts been tied to social justice movements throughout American history? From the 60's until today art has been a catalyst and support of social change. How is art being used in our cities to spur social change and what progress or lack of progress have we seen. How can art be the platform to spur change today?
A Call to Action: A collective idea of what happens next. How can all our cities work together on a single campaign around arts and social change to launch a national call to action for change. (ideas: youth violence prevention; spreading empathy; youth connections; arts funding advocacy; arts and diversity)
---


TRAVEL STIPENDS
A limited number of travel stipends are available for young artists (13 - 24) to attend the Youth Summit, as well as the 2018 Conference for Community Arts Education. Organizations may request travel stipends for up to four young artists from their program. The National Guild can reimburse up to $500 in travel expenses (e.g., airfare, hotel, ground transportation) per young person. Travel stipends are available on a first come, first served basis. For guidelines and to make a request, complete this request form. You will be notified within 24 hours of your request.
If you are planning to stay overnight in Baltimore, please be advised that the conference hotel may be sold out for certain nights during the conference. However, there are a number of hotels that are within a 3-5 minute walk. Here is a pre-populated Hotels.com Guild Search of very easy options.
---

ATTEND THE GUILD'S CONFERENCE FOR COMMUNITY ARTS EDUCATION
(Nov. 14 - 16)
The Guild is offering a limited number of complimentary registrations for young artists to attend its national Conference for Community Arts Education in advance of the Youth Summit. Visit www.communityartsed.org for details.
Our young artist scholarships enable youth to attend the conference on Wednesday, Thursday, and/or Friday at no cost (the Youth Summit is Saturday). Youth who register will be able to attend preconferences on racial justice and storytelling, conference keynote addresses, roundtables, and workshops on leadership, equity, and social justice, among other areas.
Please contact Ashley Hare at ashleyhare@nationalguild.org by October 30 if you are interested in attending the Conference for Community Arts Education in advance of the Youth Summit.